PACE: Partner led Microsoft Azure Customer Experience Event
NOTICE TO ALL PUBLIC SECTOR EMPLOYEES – Federal [including Military], State, Local, and Public Education.
This is a Partner event where items of value, which will include food and beverage, will be available at no charge to attendees. Please check with your ethics counsel to verify that you are permitted to participate in this event and receive items that may be offered. All Services shall be treated as Microsoft Confidential Information unless otherwise designated by Microsoft. The supplier will not highlight competitive solutions as part of the Events.
Being an esteemed Microsoft Partner for the past 15+ years, Computer Solution East is driving a multi-city roadshow your city this December. Yes, we are rolling a two-week roadshow in New York, New Jersey, and Florida states.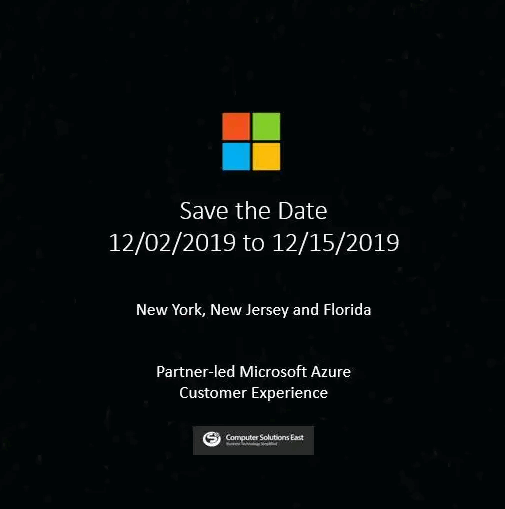 This event is a partner-led Microsoft Azure Customer Experience event to be held between 12/02/2019 to 12/15/2019.
We look forward to personally connecting to people from all walks of life. Come and join us on this roadshow. Here is a unique Azure experience opportunity for novice, moderate users, and experts alike to interact personally with us and gain resourceful insights. Get a live Azure tools walkthrough, learn about the range of product offerings, and how CSE and Microsoft Azure can make it better for users like you.
These roadshows will have experts from Computer Solutions East (CSE) come together to demonstrate how to make the most out of your Azure. For instance, we will explain how the Azure Cost Management tools help you run a business a bit sharper. Ways to leverage Azure with Advanced analytics that boasts usage patterns and organizational cost for making better decisions in day-to-day business activities. Team CSE shall also facilitate the smooth transition of existing CSP Azure customers to Azure Customer Experience in CSP by exchanging business information. It also provides a platform for existing Azure users to know about the latest improvements in Microsoft Azure and raise concerns to get it addressed directly by Microsoft partners like CSE.
In all, we are sure to add value to existing Azure users as well as help create awareness regarding the same to non-users. We encourage not only enterprises but also users from small & medium businesses to benefit from our PACE roadshows in Florida, New York, and New Jersey by enabling their in-house skill augmentation. The aim is to help you drive business optimally and yield desired results more efficiently than before as we cater to your business needs using Microsoft Azure.
Those interested to join us in any of the given cities can contact us at (914)-355-5800.
Alternatively, email us at info@computersolutionseast.com and register yourself.
Share This Post