CSE Partners with SentinelOne: Quick Look at Features and Offerings
The rising instances of cybercrime echo the need for robust IT security. Businesses adopting work from home are exposed to vulnerabilities of cyberthreats. The digital advancement in the modern world would mean most companies following an automated organizational structure. They are mainly working to create a seamless online data backup, cooperation, and information sharing. Leveraging technology opens ways for businesses to drive productivity, optimize cost savings and ensure robust flexibility. On the flip side, they are more vulnerable to cyberattacks.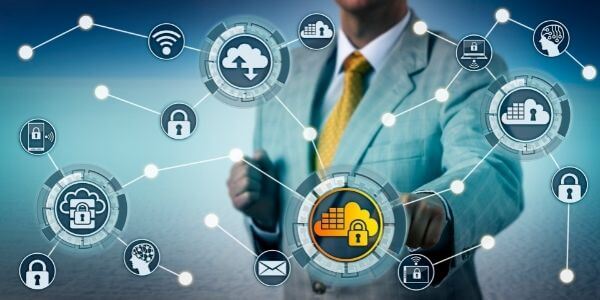 A single successful hack may result in the closure of your company, particularly if your sensitive data is encrypted and made public. All company data, including susceptible workers, customers, and other information, is kept on separate servers. If an attacker gets access to this sensitive data, the situation may be catastrophic for the business in every way.
Thus, contemporary companies must implement strong, safe, and dependable information technology security solutions that provide optimum protection for corporate data and information.
SentinelOne: Next-Gen Antivirus with Ransomware Warranty
SentinelOne is an endpoint Protection platform that helps businesses functioning across multiple industries. It stands out as a comprehensive network security solution employing a particular kind of computer network security technique referred to as Endpoint Security. Endpoint security platform is a strategy that focuses on identifying and removing security and cyber risks and assaults across platforms that are remotely related to customers' devices: laptops, tablets, and smartphones.
Ransomware is constantly evolving, with each different iteration proving to be stealthier and more aggressive than the previous one. Worldwide, organizations are striving to improve their security and then further mitigate the financial risks associated with an attack.
SentinelOne is a next-generation endpoint security solution that provides full trust in protecting your sensitive data against ransomware and other advanced threats.
By employing a predictive execution inspection engine, their endpoint Protection platform (EPP) goes beyond identifying recognized ransomware. It continuously monitors the execution within each production system or thread. SentinelOne EPP can provide unmatched protection against ransomware by analyzing the execution behavior of apps, programs, and processes in real-time.
SentinelOne is pioneering an industry-first warranty that ensures no ransomware assault will go undetected and cause catastrophic harm. SentinelOne does not advise ransomware victims on whether to pay the ransom but recognizes that there are instances when data recovery is essential.
If your organization is forced to pay the ransom, SentinelOne Endpoint Protection Platform (EPP) customers covered by the SentinelOne Ransomware Warranty will be compensated up to $1,000 USD per impacted endpoint, up to a maximum of $1,000,000 USD per company, if it fails to protect its end-users from a ransomware attack.
3 Key Reasons why Businesses Should Choose SentinelOne
One of the benefits of SentinelOne is that of Static AI. It is a key aspect that enables SentinelOne to provide a multi-layered and comprehensive approach toward endpoint security. Businesses can render AI recognition capabilities that help identify and react to harmful activity automatically. This also includes on-agent cleanup and rollback, which aims to mitigate false-positive attacks. Such a mechanism is engineered to precision, helping businesses save millions overtime to run probes based on such misleading alarms, which would otherwise add to business expenses.
The key aspect of SentinelOne's DNA is that it offers a platform-agnostic feature set coupled with Storyline technology that blends with ActiveEDR functionality. The storyline feature provides a complete story about each attack enabling security teams to function root cause analysis faster and quicker security solutions. Moreover, storylines are utilized for threat hunting, enabling more in-house private security solution providers to discover sophisticated threats proactively to drive robustness.
Lastly, their ActiveEDR capability is unmatched and often outclass the competition. It offers one of the most advanced automated EDR systems on the market today. When businesses blend it with Storyline, they can design watchlists to that security circumstance that can go through remediation procedures automatically. Additionally, the ActiveEDR offers one-click remediation that boosts an organization's security posture even on benign discoveries other than security breaches.
What Are the Key Features of SentinelOne?
Threat Prevention Mechanism Powered by AI
As mentioned above, the static AI integrated into endpoints avoids real-time threat protection. Such integration enables to quickly identification threats and deals with them before they cause damage to network infrastructure. SentinelOne's prevention methodology powered by AI is highly effective as opposed to traditional antivirus solutions as it generates fewer false positives while pivoting efforts on stopping serious threats before it hits the endpoint security devices.
Security Analysis
SentinelOne's strength stems in part from its analytics-based intrusion detection and response methodology. The blend of threat intelligence mechanisms with data collection powered by AI and ML comes with strong event reporting. It provides cumulative resource advantages to better threat intelligence and enables proactive detection.
Faster, Accurate, and Powerful Threat Detection
Detecting real-time threats allow a fast reaction to attack before they affect IT ecosystems that have been detected. SentinelOne utilizes a proprietary Behavioral AI function to identify harmful behaviors. Threat detection is used to identify file-free, zero-day, and domestic assaults.
Network Auto-Immunization
SentinelOne protects its network from endpoint attacks by using artificial intelligence and machine learning by immediately restoring the network to its optimal state and configuration after discovering and mitigating the cyber assault. Simultaneously, it helps secure comprehensive network endpoints against similar attacks by taking a real-time view of endpoints before and after the device authentication.
Integrated Automated Response Mechanism
SentinelOne adopts ActiveEDR to better tackle the network issues by blending behavioral AI. Moreover, it can eradicate and reverse harmful actions from the surgical environment with a response process per predefined automation in real-time. Such An AI-assisted reaction guarantees that devices linked to company networks may respond independently to real-time threats.
Along with that, SentinelOne is powered by Machine Learning that helps predict and recognize real-time threats by continuously looking for risks throughout a network to identify potentially harmful activity using proprietary behavioral AI. It can locate file-free, zero-day, and national assaults.
Early Threat Detection
The SentinelOne solution offers early threat detection beyond simply defending endpoints against network security assaults and threats. Additionally, it detects early threats using its AI and machine learning skills by thoroughly examines documents, data, emails, passwords, memory storage, browsers, and anything else on the network to detect and prevent threats. If it detects any potential problems, it immediately disconnects the whole network from the device, avoiding any harm with trojans or similar malicious codes.
What are the SentinelOne Platforms that Businesses can Leverage?
SentinelOne Vigilance Respond
As the name implies, SentinelOne Vigilance continuously monitors for and responds to vulnerabilities. SentinelOne Vigilance offers rapid threat assessment and breach response. It is a solution that operates 24X7 to ensure that sophisticated attacks are discovered on time. Its
capacity to respond in real-time to all alerts gives an additional layer of safety to your information technology activities.
SentinelOne Vigilance Respond offers an end-to-end solutions solution that augments your security and information technology teams by speeding the detection, prioritization, and reaction to sophisticated cyber threats and lowering the chance of missing a crucial warning that goes unnoticed.
Cyber Security Analysts can leverage SentinelOne Vigilance Respond as a part of digital forensics to evaluate suspicious alerts, review source data on threats, process operations, and network devices, analyze samples as needed, correlate the information with threat intelligence feeds, analyze low-level log data, and collaborate with security teams to investigate and prioritize events.
Additionally, Vigilance security analysts will inform security professionals and take any necessary policy-based measures to mitigate the effect of any attack against your business.
SentinelOne Vigilance may work with your Managed Security Service Provider (MSSP) to bolster their security efforts. The Vigilance service managers will collaborate with their MSSP colleagues to operationalize the process from detection to response and remediation in such deployments.
Readiness by SentinelOne
You can render SentinelOne Readiness for ONEscore that is offered every three months to ensure evaluation of the health of your installation over quarters and years. ONEscore offers actionable data and a history of your organization's performance for business strategy and compliance reasons.
On the other end, the cybersecurity analysts equipped with the SentinelOne Readiness will evaluate suspicious alerts, review raw data on threats, process operations, and network devices, analyze samples as needed, correlate the information with threat intelligence feeds, analyze low-level log data, and collaborate with surveillance teams to investigate and prioritize events.
Additionally, Vigilance intelligence experts will alert security professionals and take any necessary policy-driven steps to mitigate any threat to your company.
CSE for SentinelOne
Computer Solutions East is backed by signed contracts that can assist you in maximizing SentinelOne's products. By integrating our diverse portfolio of existing IT solutions, our clients may avoid endpoint breaches and thwart an attacker's attempts to collect credentials and conduct reconnaissance operations necessary for lateral movement.
As an experienced cybersecurity services provider, the CSE team has the experience and skills to implement the security solutions that will keep your data and applications safe. Now, our partnership with SentinelOne can match the expertise with the industry's top endpoint security protection tools to create a uniform security layer that minimizes potential weak points in your network.
Best-Practice Deployment Assistance
Computer Solutions East is an experienced IT services enabler in the USA with a highly qualified team of experts in providing comprehensive security services. CSE Partnering with SentinelOne means adding a powerful weapon to our already successful arsenal that helps your business grow confidently. Choosing CSE for SentinelOne implementation ensures greater reliability and better value to your investments.
Best Policies Recommendations & Implementation
Choosing from a range of SentilOne offerings may get too overwhelming for your business. Instead, CSE experts can help you identify the best Sentinel one products that suit your business requirements. we will also help structure a security policy and implement robust end-to-end security solutions using transport layer security
Business Continuity and Disaster Recovery
CSE is one of the leading IT services providers in the USA with a proven record of delivering significant security solutions. We have a dedicated team for Disaster Recovery as a Solution (DRaaS) who aid businesses plan security lapses better.
The goal is to minimize downtime in case of any cyber-attacks and respond to it promptly while assuring recovery in place. And now, with SentinelOne Vigilance Respond and SentinelOne Readiness, we are adding more power to our already solid armory of security solutions.
Agent Upgrade Assistance
Providing a dedicated SentinelOne agent for all your security requirements can help you upgrade our current package when needed. With CSE, you are assured of quick response and agile mechanisms to scale up your security repertoire for instant upgrades.
Quarterly Estate Health Checks
Computer Solutions East is committed to providing competitive after-sales service for your security needs. We offer dedicated experts for our SentinelOne offerings who conduct quarterly health checkups for all your IT network to ensure that your devices are protected. If our SentinelOne experts find any issues, they will quickly help you strategize the right approach to establishing necessary security protocols for affected endpoints.
Technical Support by Phone, Web, and Email
Rendering SentinelOne services with CSE ensures an all-around Technical Support that has a 360-degree communications approach. You can reach out to CSE security experts dealing you're your SentinelOne products via an email, telephone, or website
Designated Technical Account Manager
Each of our clients is assigned a dedicated technical account manager for the SentinelOne managed security service offerings. You can always connect to one of your technical account managers, who will help you with any queries you have with the current set of security services. The goal is to provide you with a dedicated expert who can assist you throughout your security journey.
Baseline Check for Cyber Security Insurance
Businesses looking for greater resiliency through a cybersecurity investment would like to have some security. SentinelOne goes a step ahead in its offering by providing end-users with security insurance if the product fails to deliver promised results. We, at Computer Solutions East, are touchpoint far SentinelOne security insurance provides you with the baseline check to ensure that your businesses render the Sentinel services the right way.
Time to Replace Traditional Antivirus Solutions
This exceptional cybersecurity tool is an alternative to standard antivirus solutions that had recovery difficulties and did not reduce the amount of time a company is down during a threat or assault. SentinelOne's endpoint security strategy effectively addresses all of these difficulties associated with standard antivirus solutions. Employees may work even amid business downtime, ensuring productivity and reducing loss during threat and attack recovery.
Share This Post