Surface Hub 2S: A step ahead to empower Teams in a modern workplace
This year, in April, Microsoft unveiled Surface Hub 2S, a successor to their last year's Surface Hub 2. This is to address the evolving workplace dynamics shifting from office setups to remote workplaces. The vision behind this launch is to empower teams to work efficiently by literally fading the geographical limitations.
This new addition to the Microsoft Surface Hub family comes in a 50-inch and an 85-inch touch screen variant powered by a battery with 2 hours of backup. Being more than just a big screen, this is the whole system packed inside a minimally designed bezel – 15.5mm, bordering the IPS LCD in the 3:2 viewing ratio.
Here are the exhaustive tech specs for quick reference: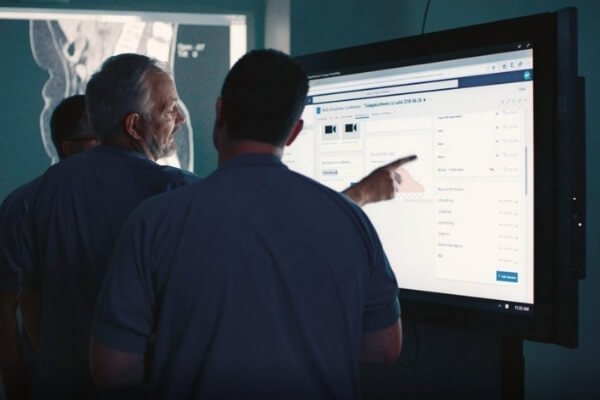 Now, let us get into the nitty-gritty of how it helps businesses incorporate a systemized remote team workplace environment.
This is how the Surface Hub 2S Harness Team Efforts.
Team efforts matter the most when it comes to solving complex issues requiring a plethora of skillsets. The way big organizations are weighing in the collaboration is more than ever; perhaps the reason why bridging the physical workplace is key to engaged, intuitive, and focused work. If you are looking to make the most of what Microsoft offers, Surface Hub 2S works best to leverage that. Ranging from services like Windows 10, Office 365, Microsoft Teams, Whiteboard, Microsoft Team Phone System to even the Intelligent Cloud – it is all packed in a single device. Microsoft has everything readily available to help teams perform better. And Surface Hub 2S is an ideal device required to utilize its full potential for an unmatched and exhaustive Microsoft experience.
– Team: Anywhere, anytime!
We all have been through the workplace struggles of booking a conference room based on its availability. No more the hassles! You can move around this 61.6 lb screen with Steelcase that supports wall mounts and stand ($249 and $1,449.99, respectively). It is 60% thinner than its predecessor, Surface Hub 2, to simplify further, bringing teams closer for seamless workplace integration. Just unplug and move it around wherever you want, thanks to the shared mobile experience. Meetings and collaborative sessions are more fun when done together without being place-bound, just like how creative individuals would prefer to get work done.
– Remote Collaborations, Simplified.
These are the two common issues faced by remote working teams
It is difficult to access and edit multiple screen content within a single conference call comprising all the team members.
Poor display and lagged control over shared screens.
Bring in Surface Hub 2S, and you will have an immersive meeting experience with its integrated Microsoft Teams and Skype for Business. A single touch on the screen can connect you instantly to a remote team in an immersive manner. Thanks to its large screen blended with an enhanced 4K camera.
Its best-in-class speakers boast the far-field mic arrays to virtually give a close-to-real-life meeting experience to everyone on the team.
– Seamless Post-Meet Collaboration
What happens next once the meeting concludes? Even in the remote work environment, you will have collaborators logging in to their system and starting their work. With Surface Hub 2s, you can take that along all the way to the tools one relies on for a seamless creative process, which involves logging into the Office 365 Suite and interacting with the required content.
It enables teams to virtually run any applications natively and helping natural interactions through touch and additional accessories like Surface Hub 2 Pen. With Microsoft Whiteboard, you can have team members collaborating intrinsically through a device-agnostic digital canvas. To pick up work from one stage to another is now easier than ever where phrasal commitments matter at each stage.
Roadmap: Work in Progress
Time and again, Microsoft has come up with a solution to address business problems. Businesses are always on the hunt for something that gives greater productivity, control, flexibility, and options. The developers at Microsoft are paying heeds to the user needs and are mending this product accordingly.
It offers tailored solutions to serve each need with Surface Hub 2S Accessories (a few already in use) like Steelcase Roam™ Mobile Stand, Cameras, Surface Hub 2s Pen, Mobile Stand, and APC™ Charge Mobile Battery, etc. Microsoft will start pushing this to a testing phase early in 2020 through a selected customer's channel.
Ideally, this one built for corporates frequently needs collaborative efforts. Here is the chance to leverage the modern workplace and drive business growth that removes spatial hurdles. We at Computer Solutions East provide desktop solutions with expert technical assistance. If you are looking to bring dynamism into your day-to-day business operations, look no further.
Want to learn more about how Surface Hub 2S can benefit your business and increase productivity? Contact us today for more information. Give us a Call at 914-355-5800 to know more about Surface Hub and other Microsoft Products.
Share This Post