Some Serious Efforts to Assist the First Line Workers
In the wake of COVID-19, there is a significant change among the workers in service and task-related roles in various industrial sectors. There has been a disruption in the operation, and the demand in supply chains now gets shifted. We are reliant on the Firstline Workers to keep everything functional, and this blog will help you on how to perform the Firstline operations amidst this pandemic. You will find some constructive measures to make the digital world useful for Firstline Workers alongside safety.
Get your Firstline Workers Actively on Teams
There have been apprehensions faced by different organizations. Therefore, we want to utilize the Team as much as possible by creating small groups to support the safety and well-being of the people by connecting them at different strata of the organization.
Bring Head-Mounted Wearable Device for the Firstline Workers
Getting a connection with the Firstline Workers who are serving in the field as critical personnel to support COVID-19 is quite a difficult task. The team on the RealWar app has come up with various situations to link experts to field engineers and train new employees with safety measures.
Help Firstline Workers to Collaborate Through Teams Mobile-Friendly Features
The Firstline professionals like flight crew members, retail agents, service members, etc. had to share information within the organizations with security. However, many people are using unsecured apps to chat to communicate with co-workers. This can lead to various compliance-related issues, such as process inefficiencies.
Now, Microsoft has come up with new customizable mobile sets that provide Firstline workers the tool to collaborate and work seamlessly inside the organization. The models are simple and quite familiar with user-friendly attributes with relevance to Firstline workers. The devices have GPS tracking, smart camera, recording features, share audio messages, etc. Workers need access to various apps based on the roles in their respective organizations.
Some of the workers need chat support, calendars, calls, etc. Other people lack access to various teams and channels. IT engineers are now providing access to these workers with the Primary Teams feature. Employees can utilize such capabilities in multiple roles. It gives the option for IT to make customized policies. Also, they can use the nascent policy templates of Firstline Worker Configuration.
Integrate Workforce Management Systems with Teams with the help of New API
Most of the companies are dependent on workforce management systems. This is because they will carry out various activities about the Firstline workers like payroll, scheduling of shifts, etc. Presently, Microsoft has come up with a new bunch of APIs. This will help the organization to collaborate their existing workforce management with Team. The first API used here is Graph API, which is basically for Shifts. The new API will enable a network between Shifts and enterprise scheduling systems. This gives access to various workforce management for various employees.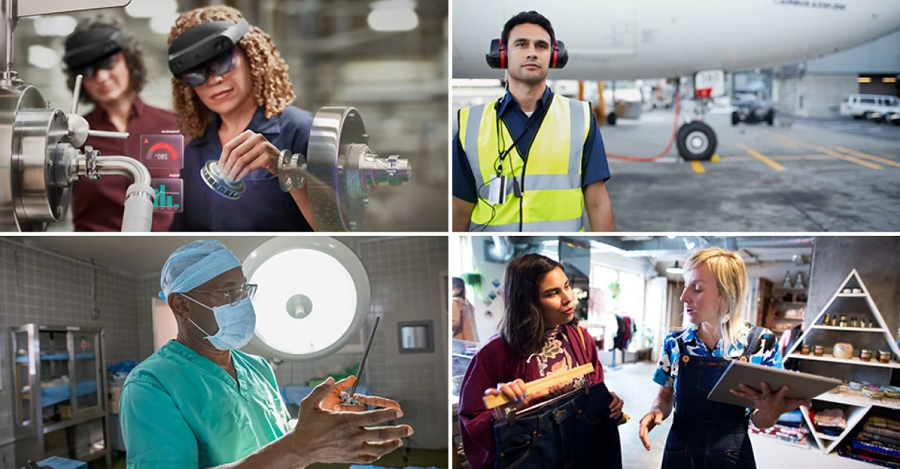 Involve Fistline Workers and Enhance the Motivation
The Firstline workers who are employed in retail associates play an essential role in building the reputation or the brand. However, a part of the workforce faces some of the most significant turnover rates. They are taking strides to keep people engaged and help employees to enhance satisfaction and minimizing turnover.
Scheduling becomes Easier for Firstline Workers
With demand is on the surge, scheduling the Firstline workers can incorporate an extra feature to ensure the steady operation of the organization. Several teams may face problems in overtime. Others might want to track time as well as attendance remotely to provide extra shifts. Thanks to the Shift app, which helps in scheduling events seamlessly. In healthcare departments, the use of this Shift app is in vogue to schedule various appointments of the patients and COVID-19 screeners.
Gather Information to Stay Informed about the Team's Health
Checking the health and the wellness of the Firstline Workers can be on the priority list. Microsoft Stores have come up with a survey firm known as Microsoft Forms to collect pieces of information about the health of the workers and to get their queries resolved. This practice is also in vogue in the hospitality sectors. Apart from getting information via Forms, they are organizing Team meetings to provide health-related tips and hosting talk shows on specific channels.
Acknowledge Tremendous Effort and Courage
Irrespective of the growing threat of COVID-19, the Firstline Workers are toiling daily to help the community. To appreciate their daily untiring journey to make life seamless, an initiative to provide three new badges through a platform called Praise.
You will enjoy the best IT solutions if you connect with CSE. They have partnered with Microsoft and will help you to sort your problems. Call us to learn more!
Share This Post