7 Ways Microsoft 365 Improves Workplace Productivity
A company's success is directly related to its productivity, and this has never been truer than in today's fast-paced world. Employees not working productively as they should or could be can place a considerable financial strain on your business. Office 365 from Microsoft is one such application suite, which can create a difference and help take the company to great heights. Microsoft 365 double downs on productivity enhancements, specifically as it relates to the modern, mobile workplace.
If you recently purchased Microsoft 365 for your business or still considering if it will be a smart business move, then I'll share 7 Ways Microsoft 365 will take your business forward and can help boost productivity in your workplace in several useful ways.
Easy Collaboration – Working with Microsoft 365 improves the ways that businesses can collaborate. SharePoint is a prime example. This is Microsoft's cloud storage and collaboration tool for businesses. This allows employees to work on projects with one another, exchange files and documents, and do so more efficiently and reliably no matter where they might be in the world.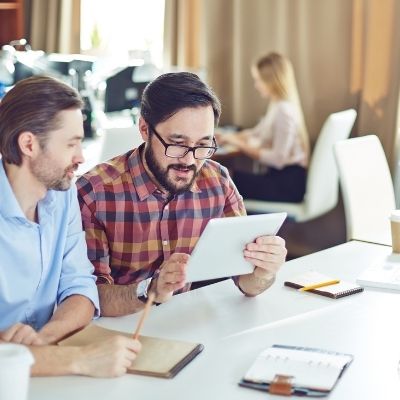 Going Mobile – Remote work is becoming more widespread as mobile technology evolves. Much of today's workforce is looking for ways to untie themselves from the physical office. Whether this is working from home throughout the week or catching up on tasks after-hours, people need access to their work-related data regardless of wherever they are. Microsoft 365 is a compelling mobile solution that allows you to integrate with a variety of mobile devices, including desktops, laptops, tablets, and smartphones. This brings the mobile culture to the workplace so that workers can access their files and other documents to get work done when and wherever they are, and in different conditions.
Effective communication – is the cornerstone of productivity. Microsoft 365 offers a variety of options to make sure that workers can talk in real-time without having to meet face-to-face, including Exchange Online, Video chat, instant messaging, and Skype for business. Whenever collaboration is required, these tools make it possible no matter where you are or what you're doing; you can all keep in touch.
Cloud-Based Storage with OneDrive – More and more companies are moving to the Cloud for their storage needs, and this is where Microsoft 365 excels. Microsoft 365 eliminates the need for duplicate files. Multiple versions of the same documents will no longer exist since workers can securely upload files and reports to the Cloud, which lets them work from anywhere and anytime in the world quickly.
Corporate Social Network – If you want your employees to bond and become friends, Microsoft 365 allows users to create their private social network with Yammer. With increased communication on a more social level, employees can enjoy a stronger sense of belonging, which is proven to improve employee engagement and productivity. Everyone on the team will be able to have access to this private social network.
Reduced Downtime – Downtime can kill a business. In the past, power outages, renovations, or other disruptions would prevent people from working for hours, sometimes even longer. With Microsoft 365, everything is in the Cloud and accessible on multiple devices, which means that people will always have access to their work. Microsoft 365 tools don't require any physical installation, special software licensing, or trained engineers. There's no required monthly maintenance or updates. This eliminates the downtime usually associated with those activities and helps the business runs smoothly.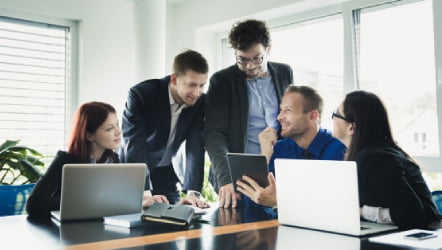 Enterprise Mobility + Security – Security and safety of business and customer data is a priority. Since cybersecurity is an essential part of your business, Microsoft 365 provides extra layers of security through Enterprise mobility and security, reducing the possibility of a breach of your business data, putting you steps ahead of hackers and attacks.
These are just seven out of many productivity benefits of Microsoft 365. You'll find that the essential things in business and life are those that cannot be quantified, like the freedom of doing business, knowing a small monthly subscription covers everything.
While features of Microsoft 365 aid productivity, they also create a seamless user experience that fits with the modern workplace. The ability to offer employees an always connected, work-from-wherever expertise can go a long way in helping enterprises recruit and retain the hard-to-find talent that is proving to be so elusive in today's competitive marketplace. For over a decade, Computer Solutions East (CSE) has been a leader in the Microsoft ecosystem with certified staff across all stacks of solutions. CSE enables people and businesses to be successful by providing the tools and expertise to enrich today's workforce experience. So, by purchasing Microsoft 365, you get a complete, intelligent solution that empowers the employees to create and collaborate securely, safeguard the business, and simplify IT management.
Give us a call at 914-355-5800 to find out more!
Share This Post