Windows 11 Supporting the New Generation of Devices for the Ever-changing Educational Scene
As schools adapt to change, many are discovering that one size does not fit all, and as a result, they are embracing a variety of hybrid learning approaches and remote learning. The value that technology can provide in unlocking these talents is astounding. Of course, having Windows 11 at the heart of it all is fantastic, with new capabilities to improve the learning experience and enable better, more profound learning experiences. Schools are still growing and developing unique teaching and learning methods, and we admire how educators use technology to help children survive and thrive. 
Microsoft & Computer Solutions East can provide you with the technology you need to: 
Create learning experiences that are both individualized and engaging.

 

Make the most of your gadgets and built-in tools.

 

Encourage social-emotional learning and inclusivity.

 
With Windows 11, new devices enable reliable, safe, and powerful learning
While education has changed dramatically in recent years, Microsoft remains committed to meeting the needs of students and educators now and in the future. Windows 11 features a powerful yet simple, clean, and fluid design that facilitates communication and collaboration. The release of Windows 11 in November signaled the start of a new era in education. It is simple to deploy and manage, and it was designed and built during the pandemic to address the most fundamental challenges schools face in the blended learning world. It brings performance enhancements that optimize resources on low-cost devices to deliver more comprehensive learning experiences. It was designed and built during the pandemic to address the most fundamental challenges schools face in the blended learning world.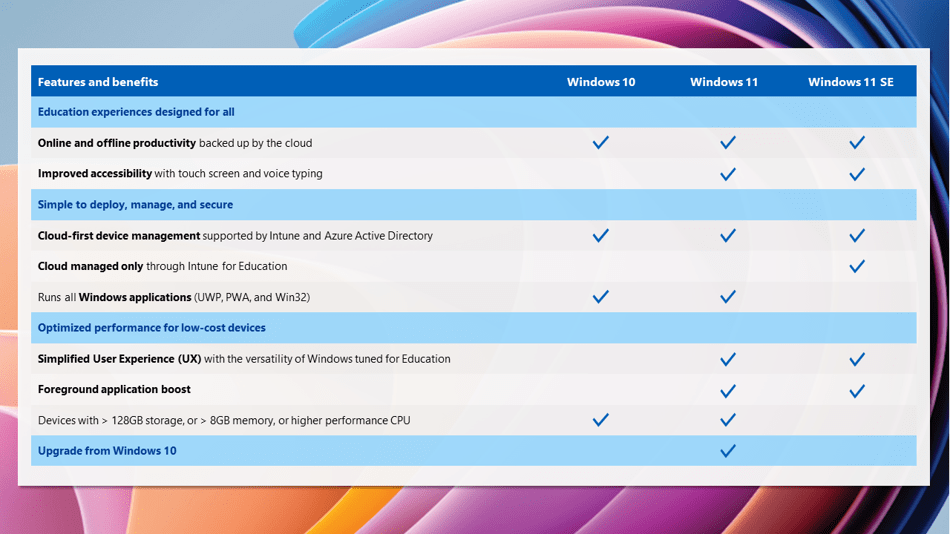 Image Source: Microsoft
Explore Windows 11 Devices to help meet the needs of every student
Whether kids need to engage in class remotely or in person, do digital assignments, or connect with instructors for support, devices are more crucial than ever in K-12 education. The Surface Laptop SE is our most economical device yet, a small and stylish classic laptop with a new edition of Windows 11 designed just for children in primary and secondary schools. Laptop SE is designed to fuel creativity throughout the school day, with a long-lasting battery life1, an HD camera, and a modern processor that loads apps and data swiftly. 
The new Windows 11 SE edition optimizes performance with selected, education-focused programs designed for low-cost PCs. Make the most of Microsoft 365, including Microsoft Teams, Office 365, and Minecraft: Education Edition*, to guide students to gain the skills they'll need in the future while being safe and distracted. Students may access files and productivity programs online and offline using built-in security, while IT can manage downloads, deployment, and security settings. 
Educators and high school students looking for performance, durability, and a modern appearance will love the Surface Pro 8 and Pro X. The Pro 8 is suitable for graphic design, coding, and other classes with more heavy workloads since it has greater power than any previous Pro device. The Pro X is highly portable and enables seamless transitions between home and school while also providing kids' performance, thanks to the newest chipset and pen design. 
Finally, the Surface Laptop Studio is the most potent Surface Laptop ever, combining speed, graphics, and long battery life. This device is designed for educators who require a genuine mobile workstation that can easily switch between laptop, stage, and studio modes to support a variety of instructional circumstances.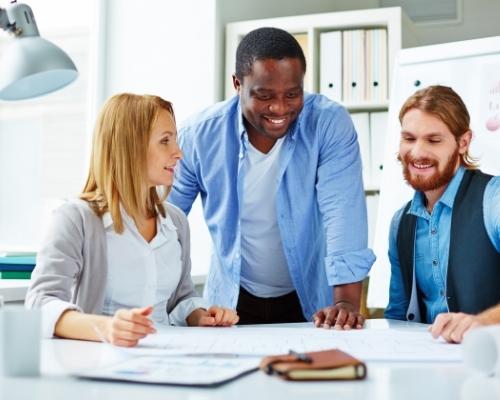 The new Windows 11 operating system is used on the Surface Go 3, Pro 8, Pro X, and Laptop Studio, including touch and inking for an even more distinctive and creative learning experience. Windows was Reinvented for a new era of digital learning. It enabled every student to reach their full potential by providing powerful tools to learn, collaborate, and create in a safe and secure environment. New security threats have arisen due to digital learning, and Windows 11 helps to minimize them with robust, always-on security. 
New accessibility issues have arisen as a result of digital learning. Schools must make education accessible to all students, regardless of their aptitude, learning style, or geographic location. Learning, vision, hearing, mobility, and neurodiversity are addressed by built-in accessibility tools and apps in Windows 11 and Microsoft 365. Immersive Reader can help you improve your comprehension, turn on live captions and translation during virtual class sessions, and convert spoken speech to text, among other things. The Surface Adaptive Kit is designed to help people with disabilities use their devices more easily. The package includes opener support and bumps labels to help identify components like keys and ports, making it a versatile collection of tactile tools.  
We're committed to partnering with schools to provide Surface devices that help provide a safe, inclusive, and engaging experience for all children as learning evolves to fit their needs. Every school will go to Windows 11 at its own speed. Computer Solutions East is committed to assisting you with your Windows 11 migration, whether you are a quick adopter or may take months or years to complete. 
Share This Post