5 Reasons Why Managed IT Services for Healthcare is Important
Healthcare is among the most important industries on the surface of the globe. Without it, the familiarity of nursing care and the intricacies of healthcare services will not exist. And more than two years ago, a global pandemic shook its core, challenging its principles to mitigate an unseen enemy. This has made us value health and medical services more than ever. 
Because of this, healthcare spending in the US alone is 19.7% of its total economy—a 5% rise from their expenditure rate 60 years ago in 2020. And globally, the healthcare market is projected to increase from $361.57 billion last year to a whopping $424.63 billion industry value by the end of 2022. These figures are big enough to convince you that it's a vital industry to secure, improve, and invest in.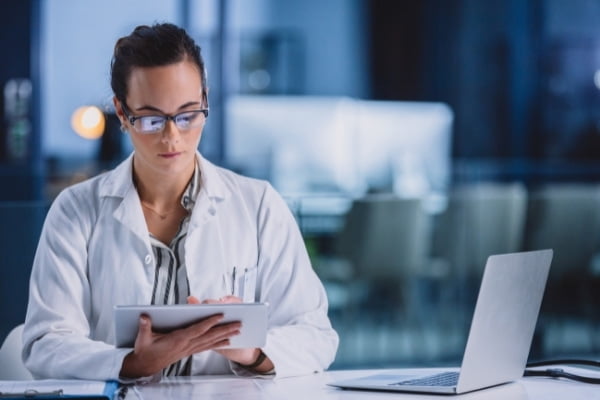 The good thing is many healthcare companies saw this urgent need. In 2021 alone, health innovation investments garnered around $44 billion worldwide, which is double the raised value in 2020. This puts more weight and relevance on IT advisory services and outsourcing in the healthcare industry. But why exactly managed IT services for healthcare is so important? 
Prompt patient care and response are forever necessary
Though the COVID-19 virus is now more controllable, we are still in a pandemic. And even without it, the need for swifter and more effective patient care persists as other healthcare needs require attention. 
And to provide these more effectively, healthcare providers should first be free from workflow challenges unrelated to their expertise. These 'unrelated challenges' can be in the form of outdated hardware, unlicensed software, or a faulty patient management portal. 
Having an outsourced tech partner who paves the way for healthcare professionals to address the mentioned mishaps 24/7 is just a game changer for the quality of healthcare services. This is the kind of service availability that an in-house IT team cannot fully provide. 
Data threats are evolving
If you think that the healthcare industry is immune to cyberattacks, you're wrong. In fact, it is prone to attacks because of the rich patient data that cybercriminals can get from them—along with their slow adoption of newer collaboration and security technologies and third-party assistance. 
A survey shows that 83% of physician practices have fallen victim to a cyberattack. By getting managed IT services for healthcare, any provider can stay on top of their security structure, protecting company assets and patient data. An outsourced team can apply the best data protection practices and updated technologies to implement network security and cybersecurity effectively.  
Compliances are neglected
With how sensitive the data they are handling, the government established Health Insurance Portability and Accountability Act (HIPAA) in 1996. This requires healthcare providers to take ethical measures in protecting the privacy and security of all the patient data they are handling. 
But in today's world of DIY and instants, many healthcare companies fell short of this compliance by having manual and unguarded patient data processing and access. This is where outsourced IT advisory services can greatly help. When getting these services, you do yourself a favor, as you will have resident expertise to guide you in understanding HIPAA rules and regulations and aligning your current processes. 
Savings is still a plus
Establishing an in-house IT team has been the default game plan of modern companies, including healthcare providers. That kind of 'immediateness' was the technical assurance we've grown accustomed to, and it's very effective nonetheless—but not cost-wise. 
There is nothing wrong with keeping an IT team at your disposal, as it can definitely give a very immediate response. However, if you're viewing it from an expense perspective, it will cost you more in the long run. The accrued costs for office space, hardware and software, maintenance, salary, allowance, insurance, and training could've been maximized on other aspects of a healthcare business.
When you avail of managed IT services for healthcare from a remote tech partner, you can get more updated expertise, faster response times, and tighter IT admin support without worrying about their workspace, tools, and compensation. You will only pay for their time and skill—nothing more, nothing less.  
Business continuity is a must
No industry is immune to outages, catastrophes, and system downtimes—even healthcare. In today's time, infrastructure uptime is the name of the game, as it's the only thing that separates the provision of prompt and outstanding healthcare services from failing to address your patients and customers. 
Without a well-laid-out business continuity strategy, your whole patient care procedure will surely be paralyzed once an untimely technical difficulty or disaster hits you. That may equate to missed opportunities to serve your patients, inability to access patient information, misassignment of healthcare benefits, and the like, which can lead to client loss. 
A tech partner that offers managed IT services for healthcare saw this coming. On top of the usual 24/7 tech support and troubleshooting, their experience in providing such industry-specific assistance is a great advantage for establishing your business continuity framework and fixing technical issues, as they happen, in the fastest way possible. 
Conclusion
Keeping the systems running for the healthcare industry is a crucial behavior as what's on the line are patients' lives. To make this a reality, IT advisory services are always available to fill in the gaps of the conventional, in-house tech support approach. And in the long run, we will enjoy faster, more reliable, and more secure healthcare services. Just be sure to get it from the right tech partner. Are you looking for one? Talk to us. 
Share This Post