How Can Cloud Computing Enhance Healthcare Services for Efficient Results
Even though many people remain wary of sharing confidential information with outside providers, the cloud's rising popularity is difficult to deny, as well as many advantages and possible advantages of healthcare cloud services. 
As in many other businesses, the days in which internal IT workers are rare in hospitals and other healthcare organizations are software, particularly when it becomes fully cloud-based. Opponents of the change (and there are many) believe it would lead to lower costs and faster note processing, resulting in improved treatment.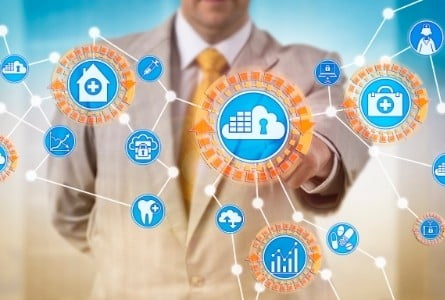 Since there are no computers on site to wipe out natural disasters or aggressive cyberattacks, processing and the payroll can be significantly expedited. Accessibility is also important when it comes to leveraging healthcare cloud services. 
Cloud computing in healthcare can help plummet the operating costs while increasing business productivity. Medical record sharing is made simpler and safer thanks to cloud storage and automating administrative back-end operations. 
The spread of healthcare data and the fact that it is provided at no cost and delivered locally to all and breakdown of locations limiting access to healthcare. 
Here are the ways cloud consulting is impacting healthcare. 
1. Lowering of Costs 
Cloud computing's fundamental concept is the on-demand accessibility of computer resources such as data storage and computing power. Hospitals and healthcare professionals are no longer required to buy hardware and servers outright. There are no upfront costs associated with data storage in the cloud. You only pay for the services you use for cloud-based healthcare solutions resulting in significant cost savings. 
Additionally, cloud computing offers the optimal ergonomic setting for scaling, a beneficial characteristic in today's world. With patient data streaming from EMRs and a myriad of healthcare applications and wearables, a cloud-based system is ideal for scaling and undertaking capacitive overhaul while holding costs down. 
2. Ease of Interoperability 
Interoperability seeks to integrate data through the healthcare system, regardless of its source or storage location. Patient data is readily available for dissemination and insight generation to aid in healthcare planning and delivery due to interoperability enabled by cloud adoption. 
Cloud computing enables healthcare providers to access patient data compiled from various sources quickly, share it with key stakeholders, and issue prescriptions and therapeutic strategies on time. Additionally, cloud-based healthcare solutions reduce the gap between experts, allowing them to review cases and provide opinions regardless of geographical constraints. 
The cloud-based storage of patient data also facilitates interoperability between the different sectors of the healthcare sector, including pharmaceuticals, insurance, and payments. This enables seamless data transfer between multiple stakeholders, thereby expediting healthcare delivery and increasing quality. 
3. Access to High Powered Analytics 
Both structured and unstructured data is an enormous advantage for healthcare. The results of various sources of patient data can be compared and analyzed in the cloud. The medical data collected in the cloud could be harnessed using Big Data analytics and artificial intelligence to advance scientific research. Computing capacity in the cloud allows us to process vast amounts of data. 
Analyzing patients' data will make treatment plans on an individual basis. It also guarantees that all relevant patient information is retained when writing prescriptions. The effectiveness of cloud-based research comes with integrating cloud services in the healthcare sector that is dependent on collecting important patient information. 
4. Patient's Ownership of Data 
Cloud computing empowers patients by democratizing data and empowering them to manage their wellbeing. It increases patient interest in healthcare cloud services promotes informed decision-making by serving as a tool for patient education and interaction. 
When data is stored in the cloud, patient information and patient records can be conveniently archived and recovered. Though cloud protection remains a problem, the healthcare cloud services' reliability for data storage is unquestionably higher. Increased server uptime reduces data redundancy. Since backups are automatic and there is no single point of failure where data is stored, data recovery becomes much more accessible. 
5. Telemedicine Capabilities 
Cloud computing democratizes data and empowers patients with self-management of their wellbeing. Serving as a tool for patient education and interaction increases patient interest in decisions about their health and results in informed decision-making. 
When data is stored in the cloud for cloud computing in healthcare, patient information and medical images can be quickly backed up and recovered. Though cloud protection remains a problem, cloud storage is unquestionably more reliable. With increased device availability enabled by cloud-based healthcare solutions, data redundancy is reduced. Since backups are automatic and data is not stored at a single point of contact, data recovery becomes significantly easier. 
6. Superior Scalability Under Any Circumstances 
Since they're cloud-based, cloud-delivered solutions, they can be scaled up and down to meet the needs of new data without hesitation. The ongoing pandemic has put a great deal of stress on the healthcare system. Perhaps, there are no other practical solutions. When implemented correctly, healthcare organizations and facilities widely recommend cloud-based healthcare solutions and load balancing systems. 
In the healthcare industry, cloud computing has a bit of a way to go. Its integration of increasingly emerging technology such as Big Data analytics, artificial intelligence, and the internet of medical stuff increases efficiencies and creates new opportunities for streamlining healthcare delivery. It expands resource access, improves interoperability, and reduces costs. With too many advantages and a strategy to conquer the obstacles, there is no need to avoid cloud-based healthcare solutions! 
Numerous highly skilled healthcare solution providers with years of expertise in delivering cloud software and technologies will assist in chartering a sound medical-grade FDA/HIPAA compliant cloud, cloud data analytics, a cloud-connected app for health tracking, connected medical diagnostic device production, and cloud-connected medication distribution system, among other things. Via digitalization accompanied by Microsoft cloud for healthcare, the cloud is ultimately changing healthcare and making it more reliable and timelier. 
Share This Post