4 Reasons Why a Wired Phone is (Probably) Outdated for Your Modern Digital Workplace
The digital transformation has greatly disrupted the way we work. And with the onset of the pandemic in 2020, our efforts to transition to a modern workplace have been put to the test. This includes revisiting the use of communication tools like a wired phone—to see if it still has a spot for an ever-evolving workplace setup. 
And let's be honest: adopting a modern digital workplace added more stuff to keep in mind in implementing and managing collaboration tools. This has made scalability, governance, security, and even the ability to support business continuity more important than ever.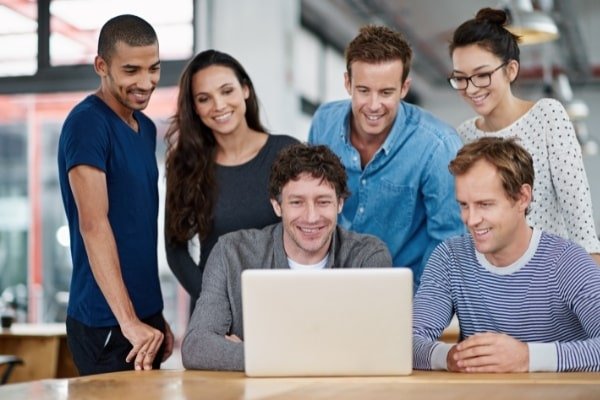 With the workplace modernization happening and with these important factors to consider, keeping a wired phone is probably not the smartest move a company can make. Here's why: 
It's stationary
One of the biggest advantages of a modern digital workplace is that it equips the workforce for a remote working setup. Employees can stay productive in the comfort of their homes, a coffee shop, or even at a nearby shore—so long internet connection is not a constraint, and an encompassing collaboration tool is in place. 
In this scenario, however, a wired phone defeats the sole purpose of workplace modernization. While making cordless variants is a nice try, its reception is still limited and would still force the user to go back to his/her desk. The inflexibility of a wired phone simply kills the mobility and productivity of a modern worker. 
The good thing is, more modern collaboration tools allow telephone number porting to a cloud-based phone system or a Voice over Internet Protocol (VOIP); a perfect solution for those who can't get rid of their phone numbers due to the fear of losing the digits they have been using for years. 
It's a downtime magnet
From the term itself, wired phones are wired communication devices that are interconnected to other phones to form a network and then hooked into another network in the same fashion. It's been working like magic, not until the lines and phone units get faulty.  
And it's a domino effect, if not for the entire network of phone lines, but for a business that relies on most of its operations in phone calls. 
The traditional wired phone system is the physicality of how susceptible your communication method is to interruptions. Be it as simple as someone tripping over a phone wire and accidentally unplugging it from the network or as catastrophic as a huge fire in a building that turned your whole hardware setup to ashes, you can never really tell when the next cause of downtime will be.  
Regardless of how the wires and phone units got damaged, a downtime waiting to happen in this modern digital workplace is just a big no-no. That's why getting rid of a wired phone setup and onboarding to cloud-based phones or VIOPs is clearly the safest move. This allows you to call from any device, as well as automatically store your call data in a cloud server and be still up and running despite disasters or hardware malfunctions.  
But the bigger question is: how prepared are you to transition to a cloud phone system? Find it our using our assessment tool! Download it for FREE here. 
It's disconnected
Ironic how wired phones connected us to the world in the past century, and it now has a big disconnect in the current workplace modernization. Sure, telephones still work perfectly fine these days, but without the VIOP capabilities, it's set in a whole different environment away from your cloud-based processes. This could mean that your communications and daily collaboration efforts are done on separate devices.  
Additionally, without a proper way to link the wired phone network to your online servers, access to call data could be unavailable since there's no way they can be recorded and stored seamlessly. This can be a growing pain for businesses that, later on, might need to revisit the quality of their calls for QA and training purposes, as well as if they eventually add calls to their overall key-performance indicators (KPIs). 
Seamlessness is among the important elements of a modern workplace, and if you're current communication and collaboration setup can't give this to you, it's time to reassess and think for the long term. But don't fret, various collaboration tools already have this feature, and they're just waiting for your decision to modernize your setup. 
It's expensive
If you think you've saved tons by sticking to a legacy phone system, think again. There are various costs involved in maintaining a wired telephone network more than it appears to have. 
For the hardware, physical phone models go outdated and may mismatch your service provider's requirement, so consider the upgrade costs to avoid bottlenecks. On top of this is the initial cost setup, the repair costs, as well as the manpower needed to implement the necessary maintenance.  
As for the calling plans, you have to deal with the huge price differences between domestic and foreign/long-distance calls—which are beyond your control. This could be a major downside when you're in constant contact with local and international stakeholders for your business. 
Modern business tools solve this through VOIP technologies—or to bring it closer to home, collaboration platforms such as Microsoft Teams, Zoom, and others now have calling licenses. VOIPs and calling licenses make local and long-distance calls more affordable, less prone to downtime, and seamlessly tied into your collaboration tools.  
Conclusion
Don't get us wrong; a wired phone system still does the job, especially for businesses and industries that rely 60-80% of their workflows on phone calls. It still works wonders, and it has proven the test of time. 
But if you're aiming for a modern digital workplace that has remote working capabilities, online-based processes, zero downtime, and affordable communication and collaboration tools, onboarding to a cloud-based phone system is among the major steps you need to take.  
But are you ready to take this step? Our Cloud Phone System Preparedness Assessment tool can help you figure it out. Get it here for FREE! 
Share This Post