Why businesses operating in the hybrid world need identity governance
Organizations are using Digital Transformation skills to increase buyer proximity and operational efficiency. Organizations must have real-time insight into changes to their infrastructure, such as new apps, visibility into who has access to what or why, automation with quick access provisioning/de-provisioning cycles, and so on. 
Managing historical identity governance infrastructure is difficult, and the difficulty increases as the system grow. Thus, while a data-driven approach enables better decision-making, scaling becomes challenging in terms of time and workforce required to operate; additionally, lackluster integrated security exposes vulnerabilities n the system that bad actors can exploit, particularly if your platform is linked to the internet. 
Identity governance enables businesses to manage user identity and access control policies-based. It allows them to create, enforce, and evaluate identity access management rules, link them to statutory obligations, and audit user access. 
The main characteristics of identity governance are user administration, privileged access control, identity intelligence, and vocation identification administration plus analytics. When these qualities are combined, they allow companies to automate processes, control user rights, adhere to data security laws, and expand their operations.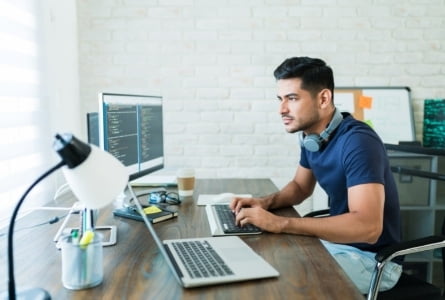 Implementing identity governance may be the most effective strategy for safeguarding your company and its workers since it provides security in three different areas: 
Access Discovery: Identity governance and administration begin with access discovery, which offers visibility into user accounts and permissions (who needs what and when) and reconciles user identity and other enterprise-controlled target resources. IT is better equipped to defend against identity theft and other threats when armed with this information. 
Enterprise Consumer Experience: Enterprises may then provide users access to cloud apps on a rule- and request-based basis, preventing hackers from getting critical data. Additionally, they may extend historical connections to on-premises and cloud-based apps by creating a request approval that records user access requests and approvals. 
Compliance: Once licensing is complete, businesses may generate compliance reports that detail which user has access to which data at any given moment. Additionally, these reports may offer user and application access, and password resets signal system abnormalities or dangers.
Modernization Implementation
Complexity is the nemesis of success in most projects, but this is especially true for IGA initiatives, which usually include a diverse set of stakeholders from throughout the company and increasingly involve a diverse group of identity types. 
Along with traditional workers, its capabilities must encompass the identities of contractors, partners, users, and customers and the uniqueness of non-human objects and processes. This is critical for digital transformation and a company's competitive edge. 
Therefore, new projects should strive to implement consistent, logical architectures that enable access to all services from anywhere for anyone using any app or device and that allow any use of access policies that can be defined centrally and then applied across all control points (on-premise and cloud) to enable automated and consistent access leadership across an enterprise. 
Organizations considering the future of identity verification should redefine access governance to include all kinds of access, rather than just static entitlements in systems, apps, and services. 
Cloud-Based Approach
A cloud-based approach is also key to implementing consistent, logical architectures that allow access for every one from anywhere using every kind of app and device to every service. 
For most businesses, this will mean making changes to their IT architecture to become more agile and flexible by separating identity and applications and providing the back-end systems required to make all the necessary connections using application programming interfaces (APIs) that bridge services, microservices, and containers in the cloud and on-premise.  
Globally, regulatory bodies and industry-standard organizations are concerned with the effect of digital transformation on privacy rights. Strict data privacy regulations, such as the European Union General Data Protection Regulation (GDPR) and California Consumer Privacy Act (CCPA), illustrate digital identity management's importance.  
Protecting privacy depends on the cybersecurity implication of cloud computing that ensures providing the right reason for all user identities to retain suitable access to the right services at the right time. Complex, interconnected cloud ecosystems frequently obscure data access visibility, leaving information at risk. 
Users may access a range of IT architecture applications that streamline their job functions. Unfortunately, standard framework allowances introduce a range of new threats for cloud ecosystems, including but not limited to breaches of duties (SOD) within ERP networks and excess access to information that violates data sharing rules. However, these threats scratch the data sharing surface and issues with permissions. 
Conclusion
To meet regulatory requirements for data sharing and permissions, organizations need identity governance solutions that cover all identities while offering comprehensive entitlements. Equally essential, they need a way to ensure their access request, examination, and certification process meets the "least privilege" criteria. Wide application-level statements risk breaching data sharing enforcement requirements as identities can access all data inside the application. Creating fine-grained entitlements that restrict access to the application and encouraging cyber business hygiene, and protect customers. 
Share This Post