Must-have Microsoft Technologies and Features for Stronger Cyber Security Environment (Part 1)
Perhaps, many experts have already emphasized the importance of a strong cyber security environment in this age of digital transformation. Aside from protecting you from cyberattacks and their repercussions, it is also now a badge of credibility for modern organizations. A company with proof of cyber security compliance is now more likely to be chosen for a business. 
We cannot blame the industries for this reaction. With the blow-by-blow accounts of cybercrimes causing millions of damages in the past few years, it is just right to be this guarded in cyber security and invest more in data security. This projects that the global spending for cyber security solutions will exceed $1.75 trillion by 2025.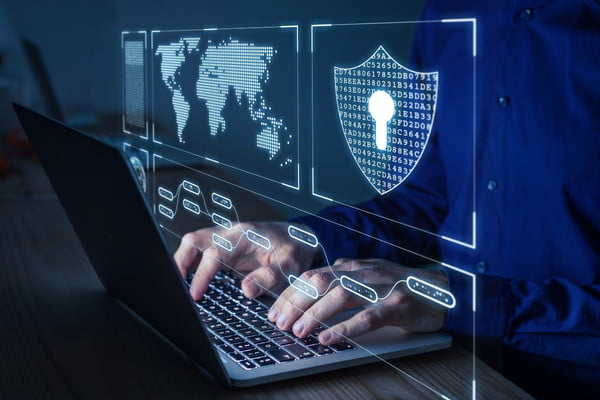 On the other hand, to put the damages into perspective, the WannaCry Ransomware attack alone in 2017 cost around a whopping 6 billion pounds or around $7.4 billion. This is by infiltrating 200,000 computers across 150 countries, making it one of the biggest ransomware attacks of all time. And with the growing rates of cyberattacks, the global ransomware damage is predicted to go above $265 billion by 2031. 
These strongly tell us that cyber security is the newer piece of the puzzle that every organization should figure out how to place in their overall process and infrastructure; not doing so makes one highly vulnerable to these threats. Before you know it, it is already too late. 
But the question is, where should you begin or where should you shape up as a company? The answer is harnessing specific Microsoft technologies and features to your overall workplace infrastructure. 
Microsoft Technologies and Features for your Cyber Security Environment 
One thing that Microsoft has been probably consistent with is its vigorous efforts to develop and improve its approach to cyber security. And being one of the key players in innovation and the battle against cybercrimes, here are the necessary Microsoft technology or essentials you should have in place. 
This is to give hackers and cybercriminals a hard time in penetrating your business, be compliant with global data security regulations, and brush up your credentials as a trustworthy company: 
Encryption
Encryption is probably the bare minimum that you should have. It is basically translating your data into a string of code that only the right people can decrypt—and that alone can enhance your cyber security capabilities in safeguarding your data 
Microsoft has embedded encryption down to the core of each of these technologies from Windows OS, email servers, collaboration apps, and it's very own cloud solution. 
Since it exists in various Microsoft technologies, data encryption is a broad concept requiring the right technical knowledge to explain thoroughly. Getting in touch with a trusted Microsoft Partner like CSE is the best route you take to get a closer look at encryption and other aspects of a cyber security solution. 
Defender for Endpoint
This tech is designed mainly for threat detection and response across devices under their very own cloud platform, Azure. It uses the technologies embedded in Windows 10/11 and Microsoft's own cloud environment, namely: 
Endpoint behavioral sensors

– these Windows 10/11 built-in sensors gather and process behavioral signals from the OS and transmit those to the central cloud instance of Microsoft Defender for Endpoint. 

 

Cloud security analytics

– responsible for translating the behavioral signals into insights and recommendations in responding to advanced threats.

 

Threat intelligence

– equips Defender for the endpoint the capability to pinpoint attacker tools, processes, and techniques and trigger alerts when they are seen in the collated sensor data. 

 
So technically, the sensors detect unusual behaviors inside the OS, the cloud security analytics interprets those behaviors, and threat intelligence suggests what to do through the attacker data. We can claim that it is the tech synergy that Microsoft can only pull off! 
GDPR Compliance
It is worth noting that among all cyber security tech and essentials mentioned in this list, this focuses more on the policy. The General Data Protection Regulation (GDPR), established by the European Union a few years back, has set the benchmark for collating and managing data globally. 
In response to this, all of Microsoft's technologies, apps, and software were aligned to GDPR, making all its users GDPR-compliant. This shows how Microsoft's adoption of a global, data-centric policy can define, regulate, and strengthen efforts to improve one's cyber security environment and massively impose the law's protection across the board. 
Conclusion
By tackling three Microsoft technologies and essentials, we can see how they can adapt to the ever-changing cyber security landscape. They harness and improve existing technologies to new and upcoming regulations, be they region-specific or not—thus their relevance in the IT realm and how they uphold various laws and compliances. 
These are just some of the must-have Microsoft features to help you establish a robust cyber security environment for your company. Are you ready for the rest of these essentials? What are your thoughts about the first three features? We would like to hear from you! Send in those here. 
Stay tuned, and do not miss part 2 of this Microsoft cybersecurity feature special! 
Share This Post