The need for data migration strategy for cloud modernization
The first step in migrating data to the cloud is to define the company's objectives and expectations. For instance, how much data does the business want to transmit, and more precisely, at what point will the quantity of data sent be reduced? Who will take the project's duties and responsibilities? How much money does the business have available, and which cloud platform will be used? Code development and effective cloud migration methods are also significant components of the planning stage. The more meticulously planned the transfer, the more seamless the procedure will be. 
However, a big stumbling block for many service providers is a lack of cloud modernization services for processing their data. This also helps to categorize, access, and to disseminate the data. Data organization is vital to an operator's ability to use the data in their systems and enable their decision-makers to gain the market insights they need to add value to the company. 
Data Categorization for Cloud Application Modernization  
When migrating to the cloud, the entire enterprise needs to think about data the same way. Business intelligence teams need to introduce the concepts of data, categorize data, insert it, and access it, so the entire organization uses a ubiquitous and shared language. If two departments use different categories for the same data, the analytics produced from the data will be inconsistent. It's also important for the data teams to teach the company how to use and analyze data to be utilized most effectively. 
In addition, to comply with many data regulations and for security purposes, companies need to understand and track the entire lineage of their organization's data — from the time it is entered and along its travels to its endpoint. This is especially crucial in susceptible industries such as healthcare, finance, and insurance. Accessing the right data accurately can be a matter of life or death in some instances.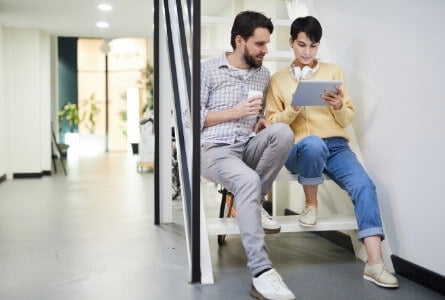 Integrating Cloud Modernization 
While no survey can predict the next big trend in IT and information management, the results of our current survey affirm the direction and strength of current trends—almost all data management approaches will almost certainly be modernized at some point, and nearly all data and applications will likely be in the cloud. The survey findings indicate that most medium to large companies in the United States is well advanced with cloud modernization efforts. Both initiatives—whether formal at the corporate level or not—are usually effective. 
In short, cloud migration and data modernization seem to complement and reinforce one other, which is notable, given the reciprocal relationship between these two developments. 
Accordingly, most businesses would be well advised to embrace both these movements. A stealth approach may allow you to use all the variables inside your company if only they are aligned to one. Cloud migration should also include the use of certain data modernization techniques. Coupled with cloud migration, you can most efficiently update data. Two overlapping trends make "two for one" a good approach. 
Battling the public cloud challenges successfully. 
While public cloud services provide businesses and agencies with effective data storage, access, and management, they are not an "out-of-the-box" solution. Many organizations fail to understand—sometimes too late—that these platforms alone are often insufficient to offer total data protection. The advantages of cloud computing in terms of size, elasticity, agility, and cost-effectiveness are well known. However, there is a range of data-centric advantages to preferred learning that isn't always apparent.  
How CSE can help
CSE delivers corporate cloud platforms that help key decision-makers in your business accelerate hyper-growth by migrating and coordinating data so they can extract all of the competitive information they need. 
Three primary activities are included in the offering to help ensure better information management: 
Data was created to aid in the migration of information to the cloud and the modernization of data infrastructure, including: 
Data integration and cloud onboarding 

 

Data quality, governance, privacy, and enforcement services 

 

Building a smart database system in the cloud

 

An AI catalog of applications for quicker insights and better automation with AI and analytics

 

Services for machine learning activities (MLOps)

 
Data-controlled services and MLOps optimization formalize and govern data and AI with Analytical data as a service. Contact CSE experts to learn more about how we can help you prepare, coordinate, and move your data to the cloud. 
Share This Post