4 Major Signs That a Healthcare Provider Should Get Remote Managed IT Services
If there's one industry that is intensely anchored to the sheer need of the market, that is healthcare. Probably it has existed since we learned to put a system and organize it to help improve the medical services we are getting—and it has been very resilient ever since! 
While the way healthcare withstood the test of time is very impressive, it's unfortunately known to be a notoriously slow adopter of technology and digital tools in one way or another. Whatever it has been like that for the longest time, it's undeniable that it has negatively affected the quality of healthcare services across the globe.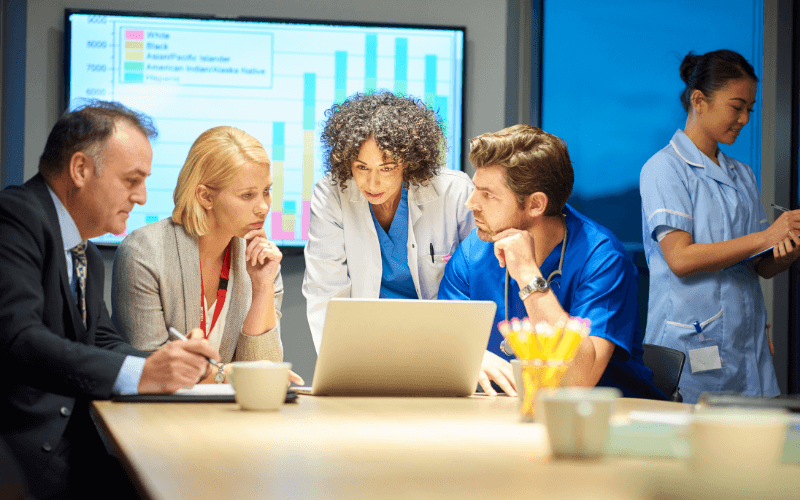 However, since the age of the internet, digital transformation, and the global pandemic, we've seen a commendable improvement in the tech adoption rates of healthcare providers. There has been a positive reception of digital tools to improve medical services. 80% of physicians now use tele-visits for virtual consultations—a huge jump from 14% in 2016. There's also an impressive growth in the usage of remote monitoring devices, from 12% in 2016, now 30% in 2022. 
These figures show that the healthcare industry is maturing technologically and digitally. But it is also worth noting that this maturity may vary from one healthcare provider to another—and this is where professional assistance comes in handy, just like remote-managed IT services. These outsourced support services would guide providers to learn the ropes of embedding modern tech and digital tools into healthcare processes.  
And if you're still on the fence about getting one, your hesitation is understandable. However, if you see these four signs linger within your organization, avail of these services as soon as possible:
When healthcare modernization stopped at tech adoption
The adoption of IT solutions has become a double-edged sword. While the pandemic pushed more healthcare providers to onboard to digital technologies to have continuous medical services, it also exposed the vulnerabilities of the whole process—and primarily the blind spots in protecting patient data. 
This has become low-hanging fruit for cybercriminals. 66% of healthcare companies experienced ransomware attacks in 2021, and they continue to rise in 2022—and that's just one type of data threat. It is no surprise that these attacks doubled in a year because a single patient record can be sold for up to $250 on the black market. 
The bottom line is, modernizing healthcare services should not stop in digitization but should also be paired with consistent data security efforts. This way, the process optimizations you and your patients have been experiencing can be safeguarded against various data threats. 
So on top of adopting digital tools, you should also implement additional layers of security by observing the right data security practices, abiding by compliances, and using only licensed and updated hardware and software. 
All of these, however, can be very overwhelming to implement, monitor, and optimize—and this is where remote-managed IT services can be a plus. These service providers can take the pains of the tedious safeguarding of your infrastructure through 24/7 monitoring and client support paired with the most recent security technologies and practices. 
When the data being processed is too much to handle
Healthcare data is more diverse than you know. It is scattered across various sources, parties, and systems that are pulled together once needed. One perfect scenario to draw a picture of is availing healthcare benefits upon hospital confinement. Aside from the medical data that the hospital gathered first-hand from the patient, the specific records for health insurance, government provisions, and other third-party health service providers are cross-checked. This process alone normally uses data or transaction traces as references for billing and future confinements or visits. 
Additionally, different healthcare data sources have their data formats. Currently, there is no general system or platform to store, retrieve, or align these datasets—and this is where remote-managed IT services come in. If you run a clinic or hospital that processes these bulks of data, a service provider can help you establish a private yet unified infrastructure to manage them. On top of that, you can also request to implement analytics to help you develop data-driven decisions in the future. 
When workflows are still manual and dragging
Let's face the fact that due to healthcare's slow technology adaption, most of them still stick to the good old processes. There's nothing wrong with those. However, those can't keep up with modern patients who are after mobility and efficiency. 
Let's take scheduling a consultation, for example. Suppose patients are still required to be in long queues for hours just to get an appointment number or at least need to fill up several pages for personal and medical info. In that case, there's already a missed opportunity to incorporate digital technologies to make these procedures faster and more efficient. 
Yes, it has been like this for ages, and we got accustomed to them. But without matching the needs of patients right off the bat, there will be a problem. But to make things clear, you don't have to disregard the concept behind those old processes; you just have to present it in a more modern and hassle-free way. 
Once you notice that certain processes are still manual and time-consuming, it's time to get IT project management services and post-project maintenance monitoring! They can give you rich insights as to which part of your healthcare processes can be automated, digitized, or optimized. A great place to start your partnership with them is by being honest with the specific procedures that you know are repetitive, manual, and time-consuming. They'd surely seen your need before and would give clear-cut suggestions and solutions.  
When patients lose patience
In relation to the previous point, the receiving end of healthcare workflows is the patients at the end of the day. Without establishing a streamlined, efficient, and secure process, you might have difficulty attracting or retaining patients. 
Aside from experiencing automated, digitized, and optimized healthcare processes, patients love it when they have a certain involvement in the whole process. You can meet this need by establishing a self-service portal where they can download their medical records, pay their bills, check their statuses, or book an appointment while keeping everything at the tip of their fingers by going online and on mobile. 
This is also an important aspect of patient care; you can maximize remote-managed IT services. They can make your tailored and patient-friendly portal a reality. You may also want to see their healthcare solution folio to check what resonates with your current processes and customize it to your liking. 
Conclusion
These are just some of the major signs to look at when you're still undecided about getting remote-managed IT services for healthcare. Regardless of the sign that you saw in your organization, getting an expert's help removes the hassle of focusing on non-healthcare-related matters, which is a great opportunity to serve your clients and patients better! 
If you're looking for a provider of these kinds of services, CSE is the tech partner that you can count on. Let's talk. 
Share This Post