Why should organizations commit to utilizing Microsoft Teams Platform without hesitation?
Pivoting any useful project is strengthened by Microsoft Teams, which drives seamless yet robust strong communication. For greater efficiency, stakeholders, managers, and teams must set goals, provide guidance, and collaborate. If individuals are under one roof or scattered across the globe, the glue that keeps initiatives together is a cloud-based service that keeps an open communication channel. 
Collaboration applications that promise the moon, but yet offer much less, saturate the market. Microsoft Teams, for reasonable justification, is a significant player in the industry. Microsoft provides a suite of products designed to keep organizations running more effectively. 
If you keep up with the Microsoft Teams platform and have a history of embracing such a broad-based platform in the past, you could have moments of fear and all the latest features. When you needed to clean that up, you know what it meant to your company years later. You may have concerns about a certificate lock-in, an extensive infrastructure, and a non-interoperable program.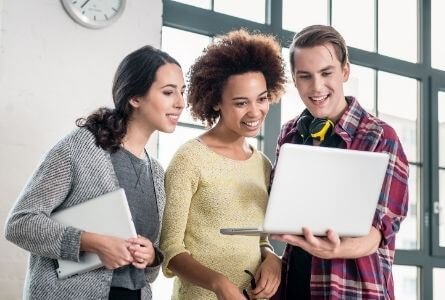 However, the Microsoft Teams platform has extended features, improved security, and data governance, but its core is an essential standard-based, modern architecture. This helps enterprises drive innovation set to leverage the immediately anticipated ROI (meetings, phone calls, document collaboration, etc.) on the cloud-based services and find even more value by contributing to the lightweight app creation while avoiding 'sins of the past.' 
Second, you don't have to go to it by yourself! Before jumping headlong into hazardous areas, include Managed IT service provider to help you architect, program, execute your Microsoft Teams ideas.  
It is always best to eliminate copies of data, which produces another mess to clean up later, use the data where it is. Now sit back and think about what you're trying to achieve, and you'll be able to dig in from new dashboards, process design, data-driven models, and even connect to AI services. The ideal way to get started with the Microsoft Teams platform is to put together an entire team, mostly starting on the canvas at the same point. 
Compliance 
Teams provide a wide range of information to assist you with compliance areas, which include the following. 
Channel, talk, and attachment contact compliance

 

Guidelines regarding Data Loss Protection (DLP)

 

 

Discovery and legal hold of channels

 

Chats and files, audit log check

 

Microsoft Intune mobile application management
 We have given some information below on all these subjects, and to handle these settings, you can go to the Microsoft 365 compliance center. 
Information Barriers 
Knowledge barriers are policies placed in place by team administrators to prevent individuals or groups from interacting with each other. This happens especially when there is no business need to do so or a regulatory justification to block them from doing so. It also enables one to set policy on things like search queries and eDiscovery. 
These policies can affect users in 1:1 chat, group chats, or team-level. 
Communication compliance 
Compliance with Microsoft 365 communications allows you to connect users to in-scope policies that can be configured to monitor Microsoft Teams communications for offensive content, confidential information, and internal and regulatory standards-related information.  
To help reduce contact risks in your company, chat messages and related attachments can be scanned on public and private team networks, individual conversations, and attachments. Enterprises can ensure communication compliance in Microsoft 365 for more detail about how key decision-makers can customize policies to help you track, record, and act against improper team communications. 
Retention policies 
Retention policies in Microsoft Teams allow you, for regulatory, legal, business, or other purposes, to retain information essential for your company to preserve and delete material and communications that are unnecessary for retention. To retain data for some time and then delete it, you can also use retention policies. Check the Retention Policy in the Microsoft Teams article for more information. 
Sensitivity labels 
Apply awareness labels to secure and monitor access to sensitive organizational material produced within teams during collaboration. For instance, add tags that configure teams' privacy (public or private), monitor guest access or external sharing, and more excellent connectivity from unmanaged devices. Leveraging managed IT services Check the Sensitivity Labels in the Microsoft Teams article for more information. 
Data Loss Prevention (DLP) 
In Microsoft Teams Data Loss Prevention (DLP) and Microsoft 365 or Office 365, the broader DLP methods revolve around business preparation when securing confidential documents and data. Whether in messages or documents, you have questions about sensitive information, DLP policies will help ensure that your users do not share sensitive information with the wrong people. 
Inside a single pane of glass, getting your everyday technology needs is a concept that has been around for a long time. We need to consider how we interact with others to be feasible since many of today's business processes are like a relay race and have several hand-offs across disciplines. It has never been more useful to incorporate the Microsoft Teams platform with business systems. 
The relation of hand-offs to Microsoft Teams platform texts, alerts, and documents enables you to improve efficiency by reducing the distortions between tasks; you and your customers benefit. However, always do a sanity check before jumping into heavy lifting; if it needs code to link stuff and you are not a professional developer, now is the time to speak to the IT partner. 
How can developers integrate for a cohesive Microsoft Teams experience? 
Microsoft's ongoing flurry of updates about Teams, Power Platform (Power BI, Power Apps, and Power Automate), M365, and 3rd-party ecosystems. We will go a little geek on you now with a shortlist of the myriad capabilities you and your IT partner can brainstorm where the best place to start to harvest value could be for you: bots, robotic process automation, dashboards & data insights, message integration behavior, social integration, external federation, deep API integration, channel webhooks, etc. 
Share This Post