Choosing the Right Managed IT Service Provider
In the corporate world, organizations who have the most advanced tools and technology can stay ahead of the competitors in the market. However, establishing a successful IT service and staying current with industry changes is a difficult undertaking for any organization. This is where managed IT services may help.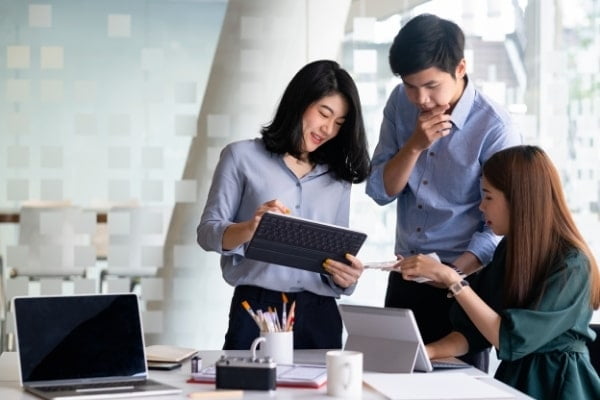 What Are Managed IT Services?
Managed IT services, often provided by specialized companies known as managed service providers (MSPs), are a comprehensive suite of solutions designed to handle all aspects of a company's IT needs. These services include network management, cybersecurity, data backup and recovery, cloud computing, and more. But what sets managed IT services apart is their proactive approach to maintaining and optimizing a company's IT infrastructure. 
Empowering Small Businesses
Small businesses are the backbone of the economy and face unique challenges regarding IT management. Lack of resources may restrict small businesses from keeping up with the technological advancements of larger enterprises. That's where managed IT services for small businesses shine. These services provide affordable and scalable solutions that can level the playing field. 
Managed IT services providers can help small businesses with their technology needs and industry best practices. This expertise ensures that a company's IT systems are secure and optimized for peak performance. Small businesses can focus on their primary functions by relying on a trustworthy IT partner who manages their technological requirements. 
Current Trends in Managed IT Services
As businesses grapple with the profound impact of technological advancements and shifting market dynamics, they are increasingly turning to managed IT services to streamline their day-to-day operations. Projections indicate that the global market for managed IT services will exceed $300 billion in the coming years. 
Given the perpetual evolution of this market, Managed Service Providers (MSPs) must stay abreast of the latest trends to offer the most effective services to organizations. Here are some of the most recent developments in the managed IT services industry: 
Rise of Emerging Technologies:

 Technologies such as the Internet of Things (IoT) and Blockchain have opened new opportunities for MSPs. Organizations find themselves in need of individuals well-versed in these technologies, which can result in unexpected costs. MSPs can step in to bridge this knowledge gap and provide comprehensive expertise.

 

Escalation of Cyber Attacks:

 The surge in cyberattacks has compelled companies to prioritize their cybersecurity efforts. MSPs assist organizations in implementing robust security solutions and recovering from cyber incidents.

 

Increased Mergers and Acquisitions:

 The growing trend in mergers and acquisitions has driven up demand for MSPs. By offering a range of services for diverse clients, MSPs enable organizations to outsource their extensive IT operations effectively.

 

Cloud Services:

 Organizations are increasingly turning to cloud services to establish new platforms and address digital transformation requirements. MSPs can offer consumption-based pricing models tailored to different organizations' needs and effectively manage their cloud infrastructure.

 

Growth in Subscription-Based Technologies:

 Subscription-based technologies like Software-as-a-Service (SaaS), Infrastructure-as-a-Service (IaaS), and Platform-as-a-Service (PaaS) have seen a significant uptick. These technologies offer cost efficiency, scalability, and enhanced security. MSPs play a pivotal role in facilitating organizations' transition to these subscription-based services and ensuring their effective management.

 
These trends underscore the dynamic nature of the managed IT services sector and the vital role MSPs play in helping organizations navigate these changes. 
The Benefits of Partnering with a Managed IT Services Company
Partnering with a managed IT services company offers many advantages for small businesses. Here are some key benefits: 
1. Cost Efficiency
:
Managed IT services provide a cost-effective alternative to hiring and maintaining an in-house IT team. Small businesses can save on expenses by not hiring full-time IT staff, including salaries, benefits, and training costs.

 

With predictable monthly fees, businesses can budget more effectively, as there are no surprise IT-related costs. This allows for better financial planning and allocation of resources to other critical areas.

 
2. Enhanced Security
:
Cybersecurity threats are rising, making it crucial for businesses to protect their sensitive data regardless of size. IT service providers manage comprehensive security measures, including firewalls, antivirus, and intrusion detection systems.

 

Security updates and patches are regularly applied to protect business data from potential breaches.

 
3. Scalability
:
As small businesses grow, their IT requirements naturally evolve. Managed IT services are highly scalable and can adapt to accommodate changing needs.

 
Whether a business is expanding, downsizing, or reconfiguring its IT infrastructure, managed IT services can be tailored accordingly. This flexibility ensures that technology remains an asset rather than a constraint.

 
4. Proactive Maintenance
:
Managed IT services adopt a proactive approach to IT management. This means issues are identified and addressed before they disrupt business operations.

 

Routine system updates, maintenance, and performance monitoring are carried out regularly to prevent downtime and ensure the smooth functioning of IT systems.

 
5. Focus on Core Competencies
:
Outsourcing IT management to experts allows small business owners and employees to concentrate on their core competencies. Instead of dealing with IT-related problems, they can focus on business growth, innovation, and customer service.

 

This shift in focus often leads to increased productivity, as employees can dedicate their time and energy to tasks that directly contribute to the company's success.

 
6. Access to Expertise
:
Managed IT services providers bring a wealth of knowledge and expertise to the table. They keep themselves informed about the latest advancements in technology and follow the best practices.

 

This access to specialized IT skills and knowledge ensures that small businesses can leverage cutting-edge technology to gain a competitive edge.

 
7. 24/7 Support
:
Many managed IT services providers offer 24/7 helpdesk support. This means assistance is readily available whenever IT issues arise, including outside regular business hours.

 

Quick resolution of IT problems minimizes downtime and disruption to business operations, which is crucial for maintaining customer satisfaction.

 
8. Strategic IT Planning
:
Managed IT service providers often act as strategic partners. They work closely with businesses to align IT solutions with long-term goals.

 

This strategic approach ensures that IT investments are made with a clear understanding of how they will benefit the business in the future.

 
Managed IT services are always needed. To do well in this field, it's crucial to know how it works, its history, and the words people use. It can be a tough business, but don't be scared. If you team up with the right MSP partner, it can change everything. 
At Computer Solutions East, we have all the software and tools you need for managed IT services. We have a team of experts available to provide you with professional services. 
FAQs
Q1: How can managed IT services benefit my small business's bottom line? 
Managed IT services can lower your IT operational costs, reduce downtime, and enhance productivity, ultimately leading to improved profitability. 
Q2: Are managed IT services suitable for startups? 
Absolutely! Managed IT services are scalable and can be tailored to the specific needs and budget constraints of startups. 
Q3: What sets managed IT services apart from traditional IT support? 
Proactive IT management is the focus of managed IT services. They focus on prevention rather than reaction. This approach minimizes disruptions and ensures optimal IT performance. 
Q4: Do managed IT services include data backup and disaster recovery? 
Yes, most managed IT services providers offer data backup and disaster recovery solutions to protect business data. 
Q5: Can I customize the services I receive from a managed IT services company? 
Yes, managed IT services are highly customizable. You can choose the specific services that align with your business objectives and budget. 
Share This Post