8 Microsoft Teams Best Practices for Seamless Governance
Microsoft Teams has taken the modern workplace by storm. It has seamlessly bridged the well-loved office apps on local and online platforms. With this groundbreaking innovation a few years back, no wonder it was hailed as one of the largest and fastest-growing technologies across various industries. It has put the functionalities of a messenger, a PBX or cloud phone, and our favorite office productivity apps together in one environment.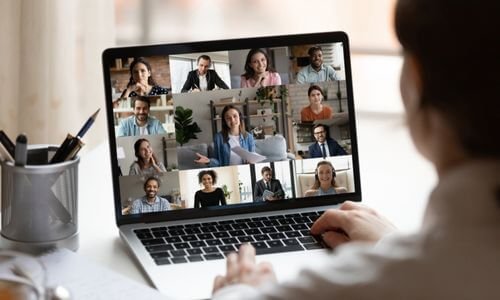 However, let's face that regardless of 145 million Teams users across the globe, there are still some who have challenges in adopting it. One main reason these challenges persist is failing to implement Microsoft Teams' best practices for governance. These common challenges are as follows: 
Data Overload

– T

his happens when an organization continuously collects, stores, and processes data without proper lifecycle terms, which proceeds to data access issues and mismanagement.

 

Disorganized Data Lifecycle and Compliance

– This is the failure to identify which data or documents should be retained and to define the necessary actions according to the standards set by privacy laws.

 

Data Leakage

– This is the result of not implementing various lifecycles and overlooking the assignment, usage, and sharing of guest accesses.

 
While these challenges sound very manageable, they eventually become backend nightmares if neglected. Give it a few months, and they will surely make a great stressor for your IT team. But whether you're already experiencing these issues or are just starting to get the hang of Microsoft Teams, doing the best governance practices would address the struggles in adoption and eventually maximize the benefits of Microsoft teams—but where do you start?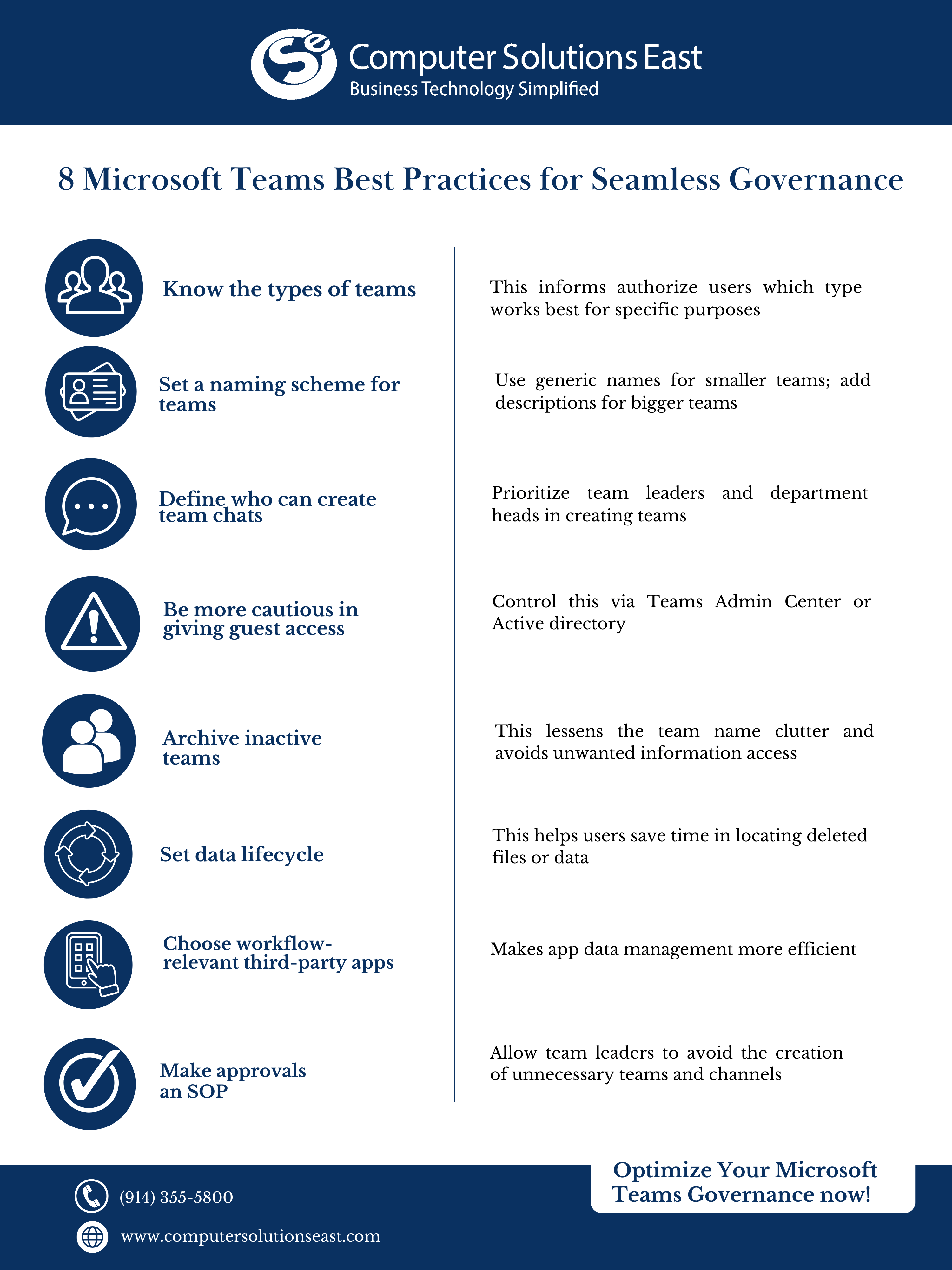 1. Know the types of teams
Knowing the types of teams can help one decide on which type to create. As of today, there are three types of teams: 
Public

–

Anyone in the tenant or organization can freely join that team without needing approval. This team is also discoverable across users. This works best for casual company topics or discussions.

 
Private

–

Other users cannot see or search this team and need the approval to join it. This is highly suggested when team owners want to regulate information access.

 

Org-wide

– This is a special type of team that automatically includes everyone in that team.

 
2. Set a naming scheme for teams and channels
On top of the right user permissions in creating a team chat, establishing a uniform naming format for newer teams and channels would also help the overall governance. This will further avoid folder paths to SharePoint and eliminates the users' confusion in identifying which one is the right teams chat or channel. 
For small teams, generic or basic channel or team name would do the work and is less likely to be reused, but for a growing number of users, adding a short description right after the name would greatly help sort out things at the backend. 
3. Define who can create team chats
Creating a new team chat in the app creates a new SharePoint folder path for the files. This means that creating duplicate teams also generates a duplicate folder path, which can confuse users when accessing files directly on SharePoint. This is where the right user permissions play an important role in Teams governance, as this help regulate the growth of teams inside the app. 
For this, start regulating the number of users that can create teams—probably prioritize team leaders to have this permission. Putting up at least two team owners in case one of them is unavailable to invite new members.  
4. Be more cautious in giving guest access
Among the benefits of Microsoft Teams is inviting a guest to join a Team's chat. However, without proper guidance and monitoring, this could be a security risk for the confidential data shared with the team. This can be enabled or disabled globally in the Teams Admin Center or the Active Directory. This can also be set per team with customized permissions.   
5. Archive inactive teams
Sometimes, a team's chat will be inactive, especially if it's created for a specific project or is bound to a certain timeline. To avoid unwanted info access, archiving it is the best option that the team owner can do. The group chat is still discoverable by other members, but the documents are on read-only mode except for the owner.  
However, this should be done manually by the team owner or the IT department, but there are solutions that can automatically trigger archiving with the defined parameters such as length of inactivity time, the status of the project, and the like.  
 6.
Set data lifecycle
For transparency and governance purposes, establishing a comprehensive data and document lifecycle avoids wasting time in locating a specific file or information after deletion. The endpoint of each deleted data or document depends on how and where it was saved and removed. 
If a file is deleted from the Files section of that team's chat or channel, it will also be deleted from the corresponding SharePoint site.

 
If a team chat is deleted, the chat history, files, etc., are all deleted, as well as the associated channels and the SharePoint site. If there's still a plan to use the team in the future, archiving is the better option.

 
Note that a deleted team can only be recovered if a user has access to the Microsoft 365 group associated with the team 
 7.
Choose workflow-relevant third-party apps
Microsoft Teams has around 600 third-party apps ready to be installed in the Teams environment, so choosing the ones that are relevant to a company's own workflow to drive further productivity and security should be prioritized. By doing so, users can install those on their end without needing tech support. Just make sure that only a manageable number of apps are permitted to be used to lessen the time and effort in managing the app data backend. 
 8.
Make approvals an SOP
To further streamline the creation of teams, establishing the habit of asking for approval first is necessary. Assigning this task to team leaders or department heads can ease the burden of approval requests to the IT team. This would avoid creating multiple and unnecessary teams for the organization.  
Approvals aren't always necessary, but it is important when creating a team or a channel should be kept in mind. 
Conclusion
With these eight Microsoft Teams best practices for better governance, your company can further maximize this platform and increase user productivity. But while these points are easy to implement, a trusted tech partner on your side can help you to further unlock more methods to a more effective teams governance strategy. We're here to help. Talk to us. 
Share This Post