Optimizing ServiceNow ROI with Customized Enterprise Architecture
There are several different practices and disparate repositories used to handle IT in traditional IT organizations, from strategic planning to operations. Many enterprise architecture experts take over IT service management implementation. Also, there are discussions around how leading organizations are using ServiceNow's shared framework as the basis for Enterprise Architecture practices. 
It is critical to hire the best-managed service providers. They enable features such as Application Portfolio Management, Technology Portfolio Management, and Planning and Modeling based on skills that can help Business Architects accelerate their work, become more streamlined, and provide their organizations with more excellent value. 
Don't buy ServiceNow for your IT Service Desk. 
Although this assertion is radical, our experience shows that ServiceNow typically comes to your company through a CIO or IT director to help handle IT service desks. Other IT processes such as changing management can be considered, but the imagined use is limited to simple IT services support operations in most cases. 
This approach, at best, offers a spot solution that makes the company ready for technology and can limit your chances of operating more effectively with shared data and integration. Look beyond your IT service desk with a corporate architectural approach when preparing your business case for ServiceNow. 
ServiceNow Enterprise Opportunity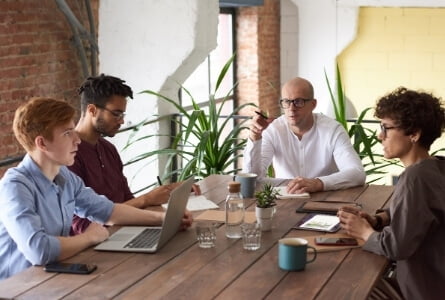 Budgets are tightening for many organizations, competition is growing, and operational risks arise daily. Leaders are required to make decisions on topics such as strategic portfolios, rationalization of applications, acquisitions and contracts of assets, resource management, investment in prioritized technology, and customer service. A decision about one of these components also depends on data from one or more of the others. 
This does not stay restricted to one department if one forum can help both of these business practices and serve as the single glass panel to facilitate managed security services with cross-disciplinary decision-making. ServiceNow can be enabled by best-managed service providers, which turns out to be a dear investment but can pay dividends by understanding and handling it as a business forum. The organizations that value most in ServiceNow build their processes and organize their data to leverage multiple platform capabilities. 
Planning with ServiceNow 
It takes tremendous effort to introduce and embrace ServiceNow. Understandably, you may want to start small-we support that strategy, such as scoping an IT emphasis. However, we urge you to socialize the investment and the platform capabilities with other business leaders while considering a ServiceNow adoption. Even if you already have an IT service desk in your IT store. Look for places in organizations that can benefit from and develop a program and roadmap for platform governance. When business partners with top IT managed services, it presents future process automation and data integration requirements, consider whether ServiceNow as a full enterprise operations platform will meet those needs. 
Even if years have passed before you extend ServiceNow beyond the implementation of IT service management, foresee the ability to set up the ecosystem and data in your network for future opportunities. If you presume that ServiceNow will only ever be an IT approach or only account for the current scope, configuration choices requiring further rework in the development event are likely to occur. 
Many enterprises are spending a lot of time planning for the unexpected in risk management by ensuring IT service management implementation. The end-users know that unexpected incidents will eventually occur. In our professional professions, this mentality colors everything we do and extends to our personal lives. As I pressured them to engage in fire drills, what-if crisis scenario discussions, and other preparedness activities, I endured eye rolls from my kids. But I understand that thinking about how we will cope with a surprising scenario in advance arms us with an action plan should it happen. 
Will the business have an action plan in case of a severe cybersecurity incident? Of course, somewhere on a shared drive is an incident response plan, but is it obscured by digital cyber dust, or is it an active document the team includes regularly? Daily practice helps keep the strategy new and your team ready for action at a time. CSE provides two services to shake off your plan's cyber dust. 
Organizations should prepare for their solution investments to include business processes and shared resources to serve all enterprise operations facets. So, yes, totally equip ServiceNow with your IT service desk, but don't purchase ServiceNow just for your service desk. 
Share This Post