Tips for Creating a Reliable Data Recovery Strategy to Reduce Security Risks
Every company is vulnerable to ransomware attacks.  Unfortunately, as technology advances, these attacks will grow more sophisticated. 
Paying a ransom and attempting to decrypt encrypted data is considerably less cost-effective and efficient than using replication and cloud backup services.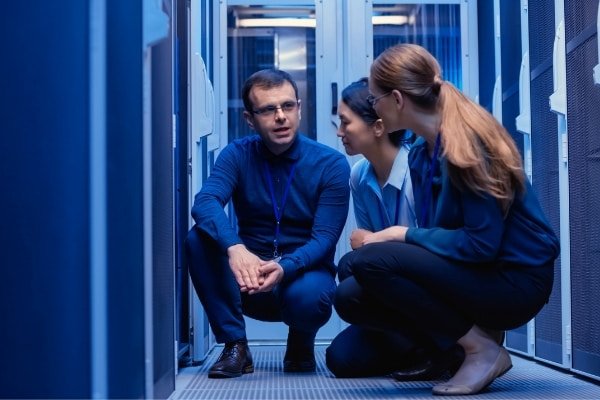 A disaster recovery strategy can help your company recover from a data breach, ransomware attack, or natural disaster that damages your network swiftly and efficiently. 
What is an IT BCDR Plan?
An IT disaster recovery (DR) plan is an action plan for enterprises that can be implemented in a worst-case scenario disaster. 
If the worst happens and you can't operate your firm from its usual location or connect to your network, a good disaster recovery plan will allow you to keep meeting your customers' needs. 
Suppose a Data breach hits your business. A catastrophe recovery strategy is essential for your company's survival. All organizations, regardless of size, require offsite backup and data recovery. Before any crisis strikes, a system should be put in place. 
The Cost of Downtime
Ransomware and other disasters, such as pandemics, can strike operational infrastructure without warning, bringing activity to a standstill. Internal systems can be infiltrated, preventing users from accessing critical databases until ransom demands are paid. Some businesses believe they are prepared to deal with such situations, yet many lack adequate security, data protection, and recovery procedures. 
According to reports, over 70% of ransomware assaults in 2021 will target small firms. Furthermore, on average, ransomware causes firms to lose $133,000 in revenue. As demonstrated, no organization is immune to tragedy, and any corporation, regardless of size or structure, can be a victim. 
Effective security monitoring and a reliable data backup and recovery solution, on the other hand, can help avoid and limit the damage and downtime caused by disasters and viruses. In fact, 96 percent of companies using a disaster recovery solution can effectively recover from ransomware and other assaults while minimizing downtime. 
Safeguarding your business from downtime
Feasibility Assessment: The first stage in our business continuity solution is to conduct a feasibility assessment to understand your current infrastructure better and identify potential vulnerabilities. 
Recovery Plan: Next, we collaborate with your IT staff to develop a solid disaster recovery strategy tailored to your company's specific needs in the event of a disaster. 
Azure Site Recovery: As Microsoft Azure experts, we use ASR services to organize virtual and physical machine failover and replication. 
Monitoring of ASR: Azure Site Recovery (ASR) is monitored and reviewed to ensure that it is available and ready in the event of a disruption, minimizing downtime. 
Semi-Annual Site Assessments: Every six months, we conduct site evaluations to ensure the integrity and reliability of the disaster recovery plan. 
Quarterly Site Reviews: We provide quarterly site reviews for firms that want the added security of more frequent monitoring. 
While various firms have varied IT budgets, the dangers to data they confront are the same. Implementing business continuity and catastrophe recovery should be a top priority for companies (BCDR). This allows businesses to continue operating in the event of a disaster whether it's a natural disaster, a malicious attack, hardware failure, or software corruption while IT personnel work to resolve the backend problem. Contact us to know more 
Share This Post