Time to Leverage 5G with Right Investments for Industry 4.0 Augmentation
The new dawn of technology lies in boosting industry 4.0 with enhanced connectivity empowering modern tech to infuse next-generation intelligence and adaptability into business systems, manufacturing plants, warehouses, and point-of-service delivery. Wireless connectivity plays a significant role in achieving responsiveness, agility, and productivity. The nature of wireless networks becomes even more critical as enterprise networks and infrastructure expand to encompass edge devices, sensors, wearables, drones, and mobile systems.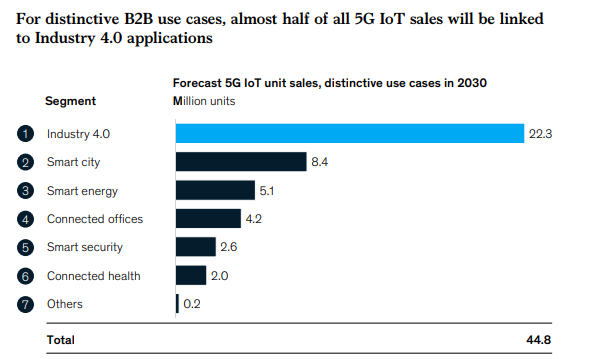 Source: Mckinsey
These networks need to satisfy the challenging requirements of latency, durability, and reliability demanded by Industry 4.0 systems. With the advent of new-generation networking networks, such as 5G Public, 5G Private, WiFi 6, and LiFi with point-to-point networks, they are phased out for the next-gen businesses for decades.
LiFi: This is a network connection that is 100-fold faster than WiFi. The LiFi uses pulse-light LED bulbs, such as Morse code, but the human eye cannot detect it as it transmits the data at a speed exceeding the speed of 100 Gbps. LiFi operates within a range of approximately 10 meters and cannot pass walls (as the device is automatically safe).
5G public: This is the newest mobile network standard with state-of-the-art antenna technology. It can transmit speeds of 20 Gbps with 1 millisecond or less latency. These features contribute to a stark increase in real-time applications. A big boost will be given to Artificial Intelligence (AI), Virtual Reality (VR), and streaming. GSMA estimates that 1.2 billion 5G connections will be available by 2025.
5G LAN: 5G LAN (Local Area Network) is one of the most exciting horizons of technologies. It can build a cloud office on-campus network without the organization needing to develop a network (thus saving on network building costs and maintenance).
Networks in the cloud office will be among the early 5G beneficiaries to utilize the USA's cloud service provider. These networks can accommodate the increased number of nodes connected with ten times less latency and 100 times faster speeds.
It offers excellent user experience and business results only with its unparalleled speed. Users can migrate to 5G using OpenRoaming (currently in beta) between their WiFi networks while rendering. This feature would open the door to broader networks that somewhere include WiFi, cellular, and LiFi.
5G Private: The extreme version of 5G is planned. Enterprises will use private 5G networks accessible for dedicated spectrum – for mission-critical applications requiring limited latency and assured Quality of Services (QoS). Telcos may also deliver a devoted portion of their networks that fulfill business requirements. The good news is that.
Private 5G is becoming accessible worldwide, including in the United States, Europe, China, and Japan. However, we have yet to see the evolution, competitiveness, and cooperation of public and private 5G networks.
IoT and Gateways: An essential element in the IoT ecosystem is the IoT gateway. The communication bridge links the object sensors to the Internet, Bluetooth devices with native cloud apps, and the USA's cloud service provider. It also reduces latency – a crucial IoT requirement, enhancing the information exchange's ability by pre-processing raw information.
Edge platforms: Edge platform is a relatively new technology used to run the applications and enable customer-end processing. For example, platforms like Edgex Foundry and Intel OpenNESS.
OpenRoaming: OpenRoaming is a modern way of linking mobile devices automatically and safely to trusted WiFi networks. There is no need to use passwords or personal information. Users can switch between 5G networks and WiFi. Do note that the WiFi position must participate in the network of the 5G provider.
WiFi 6: The new WiFi version is faster than 802.11ac. The WiFi 6 enhances device-filled home and office efficiency. For instance, if a place uses a single device WiFi router, speeds are up by 40 percent with WiFi 6 compared to WiFi 5. Also, WiFi 6 interacts concurrently with several tools, not to one device and then the next. It also employs a new technology called "target wake time," decreasing battery drainage in devices. This is especially important because battery life is a high cost and performance determinant for mobile devices.
Safe Access Service Edge (SASE): SASE is an evolving cybersecurity paradigm, enabling businesses to use secure access, no matter where their customers, applications, or devices are located. SASE is an emerging cybersecurity framework that enables 5G protection monitoring easily and lets businesses remain stress-free.
The results of these developments are clear as they aim to enable IT services for a specific industry. It is the 5G technology that plays a vital role in maximizing industry 4.0 investment potential. They build differentiators for business by injecting higher speed, comfort, performance, safety, and productivity. In the end, the race to lay the foundations for 5G integration will intensify as companies understand its effect on consumers, partners, and employees.
5G is set to speed up Multi Edge Computing (MEC) by offering new features to allow edge computing. The 5G-deployed technology can offer Open Radio Access Network (O-RAN) to propel technologies such as autonomous and IoT vehicles. New edge networks such as the EdgeX IoT Foundry and Intel Transparency will use 5G to build new services and use cases. The coming time will see enterprises focusing on their 5G approach by hiring Managed IT Service in the USA, as they play a pivotal role in achieving the Industry 4.0 ambition.
Share This Post