A Comprehensive Guide to Microsoft Cloud Computing Services
Cloud computing has revolutionized the way businesses operate, enabling them to store, manage, and process data and applications over the internet. Instead of relying on traditional in-house servers, cloud services offer flexible and scalable solutions, making it easier for businesses to adapt to changing demands. The cloud allows for seamless collaboration and remote access, fostering productivity and efficiency across the organization.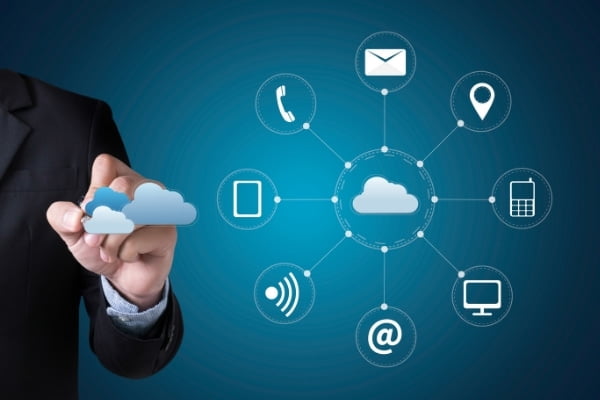 Understanding Microsoft Azure Cloud Managed Services
Microsoft Azure is a comprehensive cloud platform that offers an array of services, catering to businesses of all sizes. Azure Cloud Managed Services take this a step further by providing managed solutions that allow organizations to offload the burden of infrastructure management, security, and monitoring to Microsoft's team of experts. 
Key Features and Benefits
Scalability and Flexibility

:

Azure's flexible architecture allows businesses to easily adjust their resources to meet their needs, saving money and improving efficiency.

 

Reliability and Security:

Azure is a reliable and secure platform. It has global data centers, which makes it a trusted choice for businesses. This is because it offers high availability and strong security measures.

 

AI Integration:

Azure offers seamless integration of Artificial Intelligence (AI) and Machine Learning (ML) capabilities, empowering businesses to build intelligent applications.

 

Cost Management:

Azure's pay-as-you-go model allows businesses to pay only for the resources they use, optimizing their cloud spending.
Microsoft 365 Cloud Services: Empowering Collaboration and Productivity
Microsoft 365, formerly known as Office 365, is a cloud-based productivity suite that revolutionizes how businesses operate. It combines familiar applications like Word, Excel, and PowerPoint with powerful cloud services like Teams, OneDrive, and SharePoint. With Microsoft 365, collaboration becomes seamless, and communication becomes more efficient. 
Key Services Offered
Microsoft Office Apps:

Familiar and essential tools like Word, Excel, and PowerPoint, accessible from anywhere with an internet connection.

 

Microsoft Teams:

A powerful team collaboration platform for real-time communication, file sharing, and video conferencing.

 

OneDrive:

A secure cloud storage solution that enables users to store, share, and synchronize files across devices.

 

SharePoint:

A web-based platform for document management, content collaboration, and intranet portals.

 
Advantages for Businesses
Streamlined Collaboration:

Microsoft 365 promotes seamless collaboration among teams, breaking down communication barriers and fostering productivity.

 

Enhanced Mobility:

Users can access their files and applications from any device, ensuring work continuity and flexibility.

 

Advanced Security:

Microsoft 365 employs robust security protocols to protect data from threats and unauthorized access.

 

Regular Updates and Support:

Subscribers receive regular updates and customer support, ensuring that they have access to the latest features and assistance.




 
Leveraging Microsoft Azure Cloud Managed Services and Microsoft 365 Together
For businesses seeking a comprehensive cloud solution, combining Microsoft Azure Cloud Managed Services and Microsoft 365 can be a winning strategy. By integrating the power of Azure's infrastructure with the collaboration and productivity tools of Microsoft 365, organizations can supercharge their operations. 
Embracing cloud computing services has become imperative for businesses aiming to stay competitive and agile in today's digital age. Microsoft Azure Cloud Managed Services and Microsoft 365 Cloud Services provide the tools and infrastructure to support innovation, collaboration, and growth. By leveraging these solutions, organizations can unlock their true potential and achieve greater heights. Remember to share this post with your peers on social media to spread the knowledge and encourage others to explore the benefits of Microsoft cloud services. 
Frequently Asked Questions
Q. What Sets Microsoft Azure Apart from Other Cloud Platforms?
A. Microsoft Azure distinguishes itself through its extensive global network of data centers, ensuring low latency and high availability. Moreover, Azure's comprehensive suite of services, including AI and machine learning capabilities, makes it a top choice for businesses seeking cutting-edge cloud solutions.
Q. How Can Microsoft Azure Managed Services Enhance Security?
A. Azure managed services come with built-in security features, including data encryption, identity management, and threat detection. With a dedicated team of experts monitoring your cloud environment, you can rest assured that your data is safeguarded against potential cyber threats.
Q. How Does Microsoft 365 Foster Remote Collaboration?
A. Microsoft 365 provides a suite of collaborative tools like Teams and SharePoint, enabling seamless communication and file sharing among team members, regardless of their physical location. This fosters efficient remote collaboration, boosting productivity and team cohesion.
Q. Can Microsoft 365 Cloud Services Scale as My Business Grows?
A. Absolutely! Microsoft 365 cloud services are designed to scale alongside your business. Whether you're adding new users or expanding operations, Microsoft 365 ensures that your productivity suite remains adaptable to your evolving needs.
Q. Is Microsoft Cloud Compliant with Data Regulations?
A. Yes, Microsoft Cloud complies with various data regulations and industry standards, providing robust data protection and adherence to privacy regulations. This makes it a secure and reliable choice for businesses across different sectors.
Share This Post