8 Ways to Reduce Your Cisco Yearly Cost
Cisco uses a Core vs. Context' paradigm to help decisions on topics such as creativity and outsourcing. The model is still in use around the business since first introduced in IT. Cisco categorizes IT activities as 'core' or 'context' where 'context' refers to mature and outsourceable activities, such as contact center transactions, and where "core" refers to resources like organizational architecture, whose strategic impact renders them invaluable to organization, or services such as new technology at a point in their cycle that require tight controls.
1. IT Project and Services Portfolio Optimization
The network of enterprises has grown into a vital market facilitator. This has resulted in exponential expansion for certain organizations and has left IT divisions with cost inefficiencies in duplicate programs. Therefore, the Cisco IT cost optimization services can facilitate projects promoting non-strategic priorities and end-of-life IT services. Cisco help collaborate with you to review your IT projects and resources portfolio, match them with your company priorities, organize them, and remove unnecessary or non-strategic ones. The Cisco managed network services also involve steps to review the strategies and procedures to start and maintain IT services at their end of life and help you find effective IT services to replace failed ones.
2. Network Architecture and Infrastructure Optimization
Often, the architecture's cost-efficiency decreases over time due to such factors as mergers & acquisitions, outsourcing, and rapid development, despite well-planned plans. Cisco IT managed service provider can help analyze the infrastructure to find places where it may be inadequate or obsolete concerning your business goals. We assess its functionality across various networks. It also involves Cisco experts suggesting an architectural solution to achieve the priorities and ways of simplifying, consolidating, standardizing the infrastructure, and improving ways to use it for cost-saving.
3. Optimizing Your Operations, Tools, and Processes
Many companies invest more money in IT operations than is required. It is crucial to understand the level of service you need to offer and the right main performance metrics for keeping on course to reduce costs. Efficient operating processes, useful tools that support complexity management, and optimal service management practices reduce costs and allow IT to provide the organization with full measurable value. Cisco offers ITIL® and other leading methodologies to help you find holes in leading practice and make suggestions for the best possible use of intelligent devices and automation for your sourcing and organizational processes, service levels, and service management.
4. Innovative Approach
The Cisco® IT cost management service allows you to optimize the costs for all IT operations. Enterprise can benefit from using the Cisco IT cost optimization services in USA for network technology, design, service management, and finance using an in-house approach to find and measure ways to minimize operating expenses (OpEx). Usually, opportunities include enhancing the architectural practice, automating, standardizing, optimizing operating processes, and minimizing effort duplication.
With a strategic effort to map opportunities for IT cost reduction to your business goals and specific requirements, Cisco experts can analyze and suggest changes to three areas in which the majority of IT costs are generated:
IT resources and projects portfolio
Technology and architecture
Procedures, instruments, and processes
5. Virtualization
Virtualization is an important technology because it helps IT businesses segment one system more efficiently by making it appear as multiple virtual devices for consumers or as one virtual device by making multiple devices. No new thing is to virtualize IT assets—servers, storage devices, appliances, networks, protection, business applications, etc.
However, the advancement of a high-speed, robust, global networking infrastructure has eliminated large corporations' regional limits.
Virtualization aims to minimize or eliminate costs in the following manner:
Reusing or enhancing the available IT services
Providing the organization's straightforward customer interface, reducing funding and training for IT and non-IT workers
Limiting the possibility of a new service launch
Reducing time to launch and develop new IT projects
Minimize energy usage.
6. Process automation
Automation of processes is another important source of cost reduction throughout the company, and an approach used very well by Cisco. The Cisco E-Sales platform, where many manual processes have been removed, and all sales-related data and applications incorporated, created a single end-to-end sales process. It has enhanced forecasting accuracy, allowed salespeople to spend more time with their customers, and enhanced productivity.
These two time-consuming activities, saving time and improving efficiency, were automated by Cisco's web-based cost application and travel reservations.
Boost client experience, cut Cisco service expenses, and reduce customer turnover by installing applications in CRM and IP contact centers.
7. Collaboration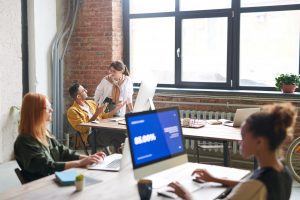 Collaboration using IP telephony can demonstrate the benefits of collaboration technologies in cost reduction, productivity gains, and business process transformation. Cisco has analyzed the return on investment data from enterprises in various sectors that showed:
20 to 40% cost savings on internal telephone calls, rental lines, and repairs
Possible efficiency increase from 2% to 10% or one to four hours a week
Possible market transformation of 10% to 40% for the relevant business process.
8. Enabling service ownership
The availability of cost information has helped encourage the introduction of the wider IT model in Cisco IT. This sense of ownership continues as cost data are included in quarterly IT assessments and investment outcomes at the executive level.
It helps service owners to understand the change of mindset needed from previous budgeting methods and data that you are accountable for the cost. This helps service owners understand that they now essentially operate a small IT company and are responsible for Cisco's costs and value as a company.
Realize your technology investments' full market value with Cisco's smart, tailored services, and Cisco expertise. With the help of deep networking expertise and a broad partnership ecosystem, Cisco services help you prepare, create, and operate your network successfully.
We have a service that can help you if you want to quickly take advantage of new opportunities to meet increasing consumer needs, improve business performance to reduce costs, and minimize the risk or accelerate growth.
Share This Post