Microsoft Is Raising the Price of Its Office 365 and Microsoft 365 Services
Microsoft is announcing adjustments to Microsoft 365 commercial pricing, the first significant pricing change since the launch of Office 365 a decade ago. This new pricing reflects the improved value Microsoft has provided our clients over the last decade. Let's look at some of the breakthroughs made in three major areas over the last decade.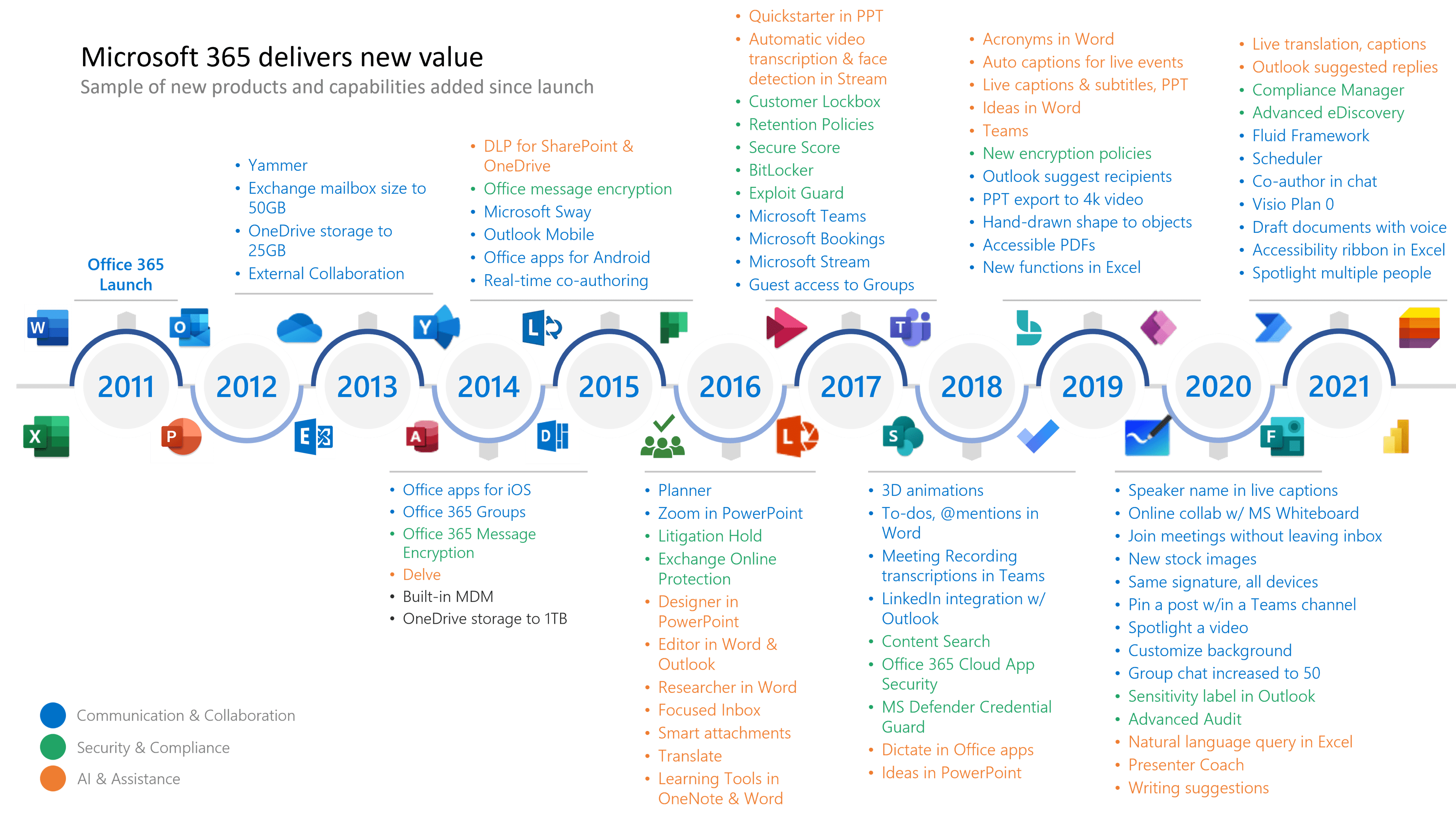 Microsoft is increasing the price of its Office 365 and Microsoft 365 services for the first time in a decade. The price hikes will affect commercial and business users of Microsoft's software as a service (SaaS) service next year, but there will be no changes in education or consumer pricing. 
What's changing?
New pricing for Microsoft 365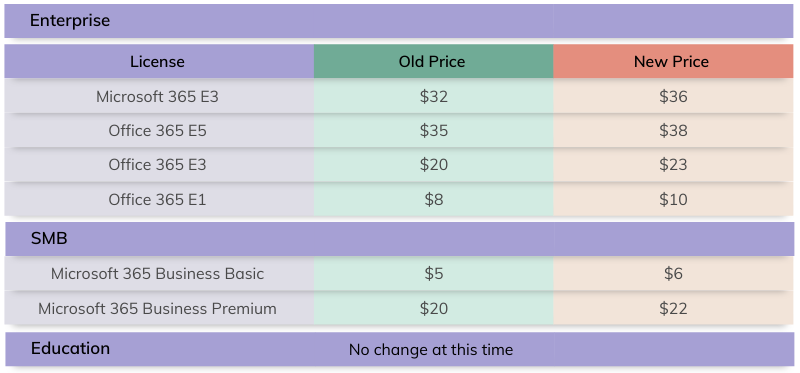 **Effective March 1, 2022, ​**(Price increases for U.S. Government cloud customers will be implemented in a phased manner) 
**Computer Solutions East doesn't guarantee the pricing. For detailed info, please refer to the official Microsoft website: https://www.microsoft.com/en-us/microsoft-365/blog/2021/08/19/new-pricing-for-microsoft-365/  
Extending unlimited audio-conferencing dial-in for Microsoft Teams included in Microsoft 365 E5 and Office 365 E5 now available with Microsoft 365 E3, Office 365 E3 / E1, Microsoft 365 F3 / F1, Office 365 F3, Microsoft 365 Business Basic / Business Standard / Business Premium, Government (GCC, GCCH, DOD): Microsoft 365 E3, Office 365 E3, Office 365 E1, Microsoft 365 F3, Microsoft 365 F1 
Is there no access to the internet? It's no problem. Join the meeting by dialing in. 
There is no additional charge for unlimited dial-in across the suite.

 

Users can use their phone numbers to dial into cloud-hosted conference calls.

 

All online meetings provide dial-in information by default.

 

Interactive support in 44 languages, commercially available in over 70 countries.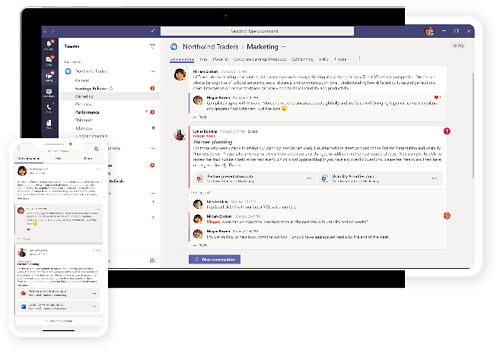 What is the rationale behind the new prices?
This update builds on Microsoft's product innovation over the last 10 years to meet changing consumer needs. Microsoft has incorporated over 1400 new features and 25 new apps, including: 
Added or introduced 25 apps: Microsoft Teams, Access, Bookings, Delve, Forms, GroupMe, Kaizala, Lens, Lists, OneDrive, OneNote Class Notebook, Planner, Power Apps, Power Automate, Power BI, Publisher, SharePoint, Skype for Business, Staff Hub, Stream, Sway, To-Do, Visio, Whiteboard, and Yammer. 
Security & Compliance: DLP for email and documents, sensitivity labels, and message encryption; Content Search, eDiscovery, and core Litigation Hold; MFA.
AI & Assistance: Automatic video transcription & face detection in Stream; Acronyms in Word; Live captions & subtitles; Ideas in Word, Natural language query in Excel; Presenter Coach; Ideas in PowerPoint; Resume Assistant; Designer in PowerPoint; Editor in Word & Outlook; Researcher in Word.
Commonly Asked Questions on the Price Increase
1. When does the price increase for Microsoft 365 go into effect? 
Updated pricing for commercial clients will take effect on March 1, 2022. Due to broader GOV price optimization and a 10% yearly price increase cap, price increases for U.S. Government cloud customers will be phased in: 
2. Why is Microsoft raising the Microsoft 365 subscription price?
Since the launch of Office 365 in June 2011, this is the first big pricing change. This update builds on Microsoft's product innovation over the last 10 years to meet changing consumer needs. Since our initial release, Microsoft has added 25 new apps and over 1400 new features, including Microsoft Teams was introduced as the only solution for meetings, chats, calls, collaboration, and the automation of corporate processes.

 

Data loss prevention (DLP) for documents and emails, Office communications encryption, and attack surface reduction features have all been added.

 
In addition, Microsoft has incorporated new AI-assisted capabilities that help us automate chores, find the information we need, and communicate in more accessible ways.

 
3. Which license programmers are affected by the new pricing?
Commercial Volume Licensing, CSP, and Web Direct are all affected by the new cost. 
4. How will existing customers be affected by this price change?
Existing customers will be unaffected until their next renewal, which will take place on or after March 1, 2022. 
5. Will the Education or Consumer list pricing change?
This announcement from Microsoft regarding Price change has no bearing on education or consumer products. 
6. Is Microsoft merely boosting rates due to the introduction of audio conferencing?
No. Extending unlimited dial-in capabilities to paid commercial goods is just the latest example of how Microsoft is constantly adding value to meet the clients' evolving needs. 
Even though cloud connectivity is improving, we know that individuals attend Teams meetings when on the go or with a poor internet connection. Microsoft must regard dial-in as a crucial component of the overall Teams meeting experience, and it's now included with our premium SKUs. 
Unlimited dial-in, which is commercially available in over 70 countries and supports interactive support in 44 languages and dialects, ensures that users may join their Teams meetings from nearly any device, regardless of location. 
7. What is the update for audio conferencing and dial-in services changing?
We'll be releasing a new $0 audio conferencing add-on SKU for qualifying Microsoft 365 and Office 365 suites on March 1, 2021, with unlimited dial-in. 
Customers who want to purchase dial-out will be able to do so through a different SKU; more information will be available soon. Microsoft 365 E5 and Office 365 E5 will remain unchanged, as both already provide unlimited dial-in and 60-minute dial-out. 
8. What will happen to the present Audio-Conferencing standalone service, which costs $4 per user per month? What are the next steps for existing Audio-Conferencing customers?
We'll provide more insights about the execution as the launch date approaches. At this time, customers are not required to take any specific actions in relation to Audio Conferencing. 
9. How will the pay-as-you-go model fare?
Pay-as-you-go models do not have any pricing changes. Customers will continue to use Communications Credits to pay for minutes. 
As leaders around the world seek to equip their employees for a more flexible, hybrid work environment, it's apparent that every company will require a new operating model that spans people, places, and processes. Over the last decade, Microsoft has unquestionably improved the value of Microsoft/Office 365, and a price increase of this magnitude was inevitable. As more businesses and individuals adopt a new hybrid style of operations, we can only infer that Microsoft's productivity suite's future is brightening. If you have any concerns or need assistance getting started with your Microsoft/Office 365 plans, please contact us right away. 
Share This Post