3 Major Savings Microsoft Teams Voice Can Drive for Businesses
Microsoft Teams is probably the most widely used collaboration and communication platform as of late. Recently, it hit 270 million users worldwide, composed of schools, corporations, and any organization that needs a reliable productivity tool. The pandemic greatly established its dependability when everybody was forced to be productive remotely and do most of the legwork online.  
On top of this, the calling capability called Microsoft Teams Voice that was added in previous years greatly contributed to its user popularity. This has further unlocked how the platform empowers a modern worker. It has broken the limitations of a phone call by only using a landline or a mobile phone and having it embedded in the Microsoft Teams environment.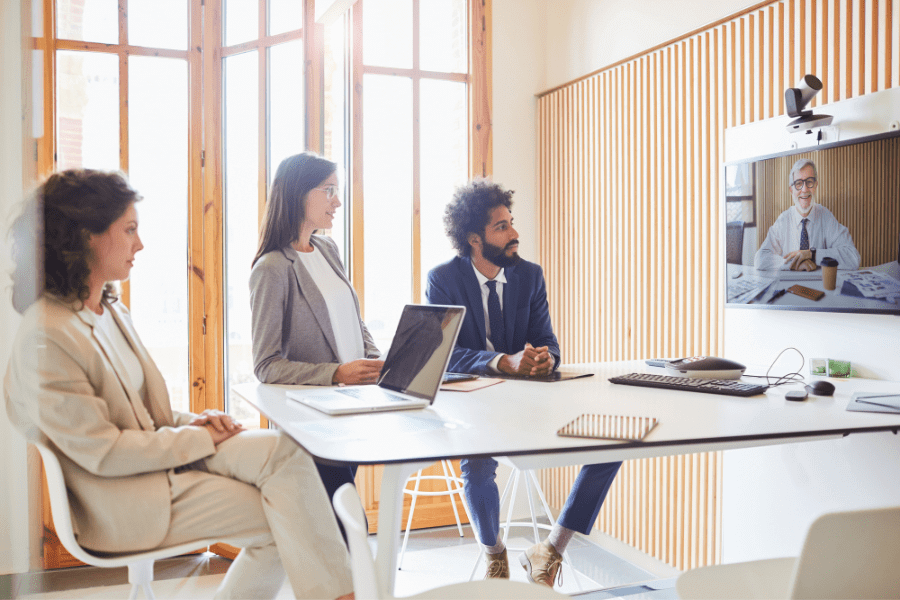 But before the massive adoption of Microsoft Teams and its calling capabilities across industries, there were a few yet critical issues that companies were experiencing. These are in relation to their existing calling solutions: 
The use of voice solutions was too expensive while offering limited capabilities and demanded tedious maintenance and management.

 

The absence of an end-to-end modern collaboration experience that has voice capabilities.

 

The onset of the pandemic worsened the existing challenges yet urged the need for change further.

 
And above these challenges, Microsoft Teams and Teams Voice consistently showed business edges. Besides creating more opportunities to be more productive, it was also geared to help drive significant financial impact to enterprises and small-to-medium-sized businesses (SMBs).  
These financial impacts were the actual value of the benefits brought in by Teams Voice in three years. What are these benefits, you ask? Let's have a closer look:  
Improved Productivity & Communication
This is probably the most noticeable effect of Microsoft Teams Voice. With the calling capabilities available in the Teams environment, users can now do domestic and international calling without leaving the app, thus reducing the time spent initiating and making phone calls. Daily, knowledge workers save up to 7.6 minutes, while mobile workers have 15 extra minutes. 
Before implementing Teams Voice, employees have difficulty balancing desk tasks and phone calls since these workloads often require different devices and exclusive focus. As a result, one task is prioritized over the other, making them less productive and consuming more work hours. 
When done in a three-year optimization plan, the improved communication and the saved time driven by Microsoft Teams and Teams Voice have corresponding benefit value or savings. After implementing a productivity percentage capture of 50%, enterprises can have $11 million worth of savings, while SMBs can get around $110 thousand. These projected amounts can be allocated to other portions of a business. 
Better Voice Solutions
Another advantage that Microsoft Teams Voice has is that it can replace existing calling solutions that are more expensive and have limited capabilities. This has been the case for most companies. Their previous calling solutions usually include: 
VoIPs

Private Branch Exchange (PBX)

 

Plain old telephone service (POTS)

 

A mix of integrated calling solutions or other calling capability options

 
On top of these are the mobile phones or devices and the calling cost for international and local contacts. 
Replacing existing calling solutions immediately removes the hardware and maintenance costs for devices and hard phones. Regarding the software side, Teams Voice significantly has a more streamlined and secure integration to other Microsoft products such as Microsoft Teams, Outlook, Office, and even Azure. As for the calling plans, there is a significant price drop and more control over how many instances and how long a user can call for domestic or international stakeholders. 
Eliminating existing calling solutions, hardware, and maintenance costs can help enterprises save up to $10.2 million and SMBs up to $82 thousand in three years. 
More Efficient IT Support
Another thing that sets Microsoft Teams and its calling solution from others is its tight IT support. Remember that not every company has a dedicated IT team or is savvy enough to troubleshoot when there are technical problems. However, most companies with their previous calling solutions are already deep in this rabbit hole. 
And since various applications and tools are floating around, user management and data access happen in different platforms or services, making the whole maintenance and monitoring a severe burden. Microsoft Teams and Teams Voice solves this by having a single management point for the tools, office apps, and call data. This greatly reduces management efforts and operational costs. 
As a result, this IT support efficiency is projected to be valued at around $1.5 million for enterprises and $112 thousand for SMBs over three years. 
Conclusion
Microsoft Teams Voice definitely raises the bar for collaboration and communication across the board. It helps companies save costs that no other calling solutions have thought of! The benefit value/savings it can bring simply tells that it is today's best calling solution in the market. 
Are you planning to change your existing VoIP soon to Teams Voice? There is no need to look further as we have the necessary tools and talent to guide you in that. Talk to us. 
Share This Post