Digital Transformation Journey with Microsoft
Senior executives globally are increasingly focused on the concept of Digital Transformation. What was once a mere aspiration has now evolved into a necessity for all businesses, requiring the integration of digital elements into their strategies.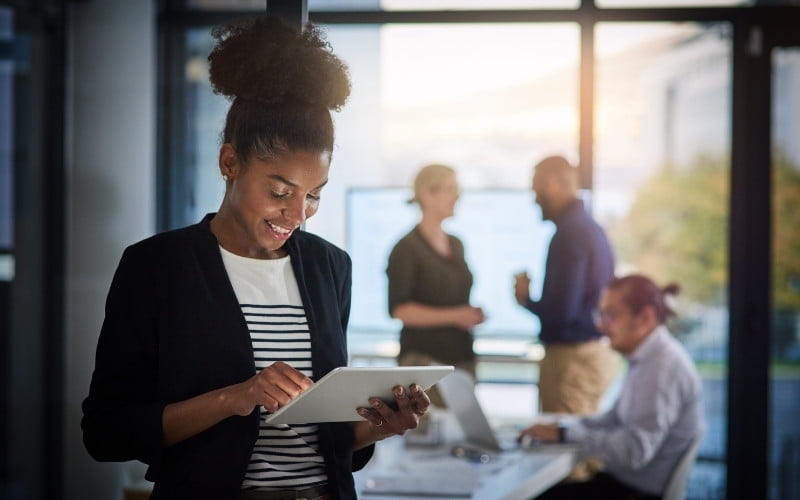 This strategy promotes the adoption of cutting-edge technologies by businesses to enhance the value and customer experience they offer. This contemporary evolution goes beyond conventional customer engagement methods such as advertising and marketing. Digital transformation also includes the integration of cultural shifts, technology enhancements, and processes that define a business's value and ability to reach the right customers at the right moment. 
In this article, we delve into the meaning of Digital Transformation and the keys to its successful implementation. 
What is Microsoft's Digital Transformation?
The path to digital transformation using Microsoft technologies involves steps and strategies to leverage Microsoft's suite of tools and services to modernize and optimize various aspects of your business.  
The requirement to embrace the advanced Microsoft workplace is a driving force behind the demand for digital transformation. This shift is essential for meeting customers' evolving needs, enabling businesses to survive and thrive in the future.  
It empowers organizations to remain competitive in a dynamic economic landscape that constantly adapts to digital and technological advancements. 
In the current landscape, more and more businesses recognize the imperative of adopting Microsoft's modern workplace. This workplace concept has been in existence for quite some time. It operates by utilizing a range of Microsoft technologies and productivity applications, harnessing the capabilities of IT and the cloud, among others. Full adoption and utilization of this approach can result in a seamless and integrated work environment that is scalable and adaptable for businesses while being user-friendly for employees. 
Microsoft Digital Transformation Solutions
Exchange Online (

Email and Mailbox

)

 

SharePoint and OneDrive (

File Server

 

And

 

Storage

)

 

MS Teams (

Collaboration and Communication

)

 

Azure AD Join with

 

Intune (

Identity and Device Management

)

 
Exchange Online
Exchange Online provides a reliable, secure, scalable email solution that enhances productivity, reduces IT overhead, and supports modern work styles. This is an outstanding option for companies seeking to simplify their email communication. 
Benefits: 
Anywhere Access

 

 

Cost-Efficiency

 

 

Security and Compliance

 

 

Scalability

 

 

Automatic Updates

 

 

Collaboration Tools

 

Data Loss Prevention (DLP) (on E3 and E5 Licenses)

 

 

Enhanced Email Management

 

 

Mobile-Friendly

 

 

Administrative Control

 

 

Support, Reliability, and Availability

 

 
SharePoint and OneDrive
Migrating to SharePoint and OneDrive is like upgrading your company's filing system and work tools for a more efficient and convenient way of working together.  
Benefits:  
Real-Time Collaboration

 

 

Anywhere Access

 

 

Version History and Recovery

 

 

Integration with Microsoft 365

 

 

Robust Security and Compliance

 

 
Microsoft Teams
Microsoft Teams is a collaboration platform for internal and external staff that combines chat, video conferencing, file sharing, and productivity tools into a single integrated workspace.  
Benefits:  
Chat and messaging  
Video conference  
File sharing and collaboration  
Channel-based organization  
Third-Party Integrations  
AI-Powered features  
Collaboration for Internal and external users  
MS Teams Phone  
Azure AD Join with
Intune
Manage the end user's device lifecycle remotely and easily via the internet and without needing an on-premises system. From device registration, assigning, device policy forwarding, monitoring, patching, data wipe out, and up to device decommissioning.  
Benefits:  
Improved Security

 

 

Easy Management

 

 

Work from Anywhere

 

 

No More Lost Devices

 

 

Less Hassle

 

 
Digital Transformation in Banking:
The banking industry is facing the imperative of digital transformation to maintain competitiveness. Microsoft has collaborated with various banks to assist them in migrating their data and applications to cloud platforms.  
For instance, Microsoft partnered with the Royal Bank of Scotland (RBS) to transition its core banking applications to Azure. This migration enhanced RBS's flexibility and scalability while reducing its IT expenses. Microsoft similarly engages with other banks like BBVA, ING, and Credit Suisse to facilitate their digital transformation. 
Digital Transformation in Retail:
The retail sector has experienced significant disruptions in recent years, primarily due to the growth of e-commerce and mobile shopping, along with the surge in online shopping driven by the COVID-19 pandemic.  
Implementing digital transformation in retail necessitates substantial investments in Microsoft technologies, including Microsoft Dynamics 365, Microsoft Azure, and Microsoft Power BI, which can empower retail businesses in their digital evolution. 
Digital Transformation in Manufacturing:
The manufacturing industry deals with critical product information, customer data, orders, and supplier details. Efficient management and monitoring of this data are crucial for seamless manufacturing operations. Microsoft Dynamics 365 is an ERP system that helps companies manage their data on the cloud. Microsoft Azure is also a robust platform for storing and processing manufacturing data. 
Digital Transformation in Healthcare:
Meticulous data management is essential in the healthcare sector, where sensitive health data abounds. Microsoft Azure provides the means for healthcare organizations to securely and compliantly store and process their data. Microsoft Dynamics 365 proves beneficial in managing patient records, appointments, and prescriptions, while Microsoft Power BI aids in visualizing healthcare data. 
Digital Transformation in Education:
Educational institutions are under pressure to deliver the best learning experiences for students. Microsoft provides various products and services to aid educational institutions in digital transformation, such as Microsoft Office 365, Microsoft Teams, and Microsoft SharePoint. 
Embracing Digital Transformation is necessary for businesses, but its effectiveness relies on the leadership within the organization. Using Microsoft's Digital Transformation Journey as a case in point, executives should: 
Pay attention to customer feedback.

 

Build trust in digital security.

 

Foster and consistently promote a digital-centric culture.

 
Share This Post