Redefining Cybersecurity: 5 Methods to Ensure Secure Remote Working
As companies of all sizes broaden their dedication to supporting remote workforces for the future, cybersecurity experts are identifying threats they need to overcome. Employees working from home are using vulnerable computers, and networks have that have generated new security vulnerabilities. Microsoft research indicated increased day-zero vulnerabilities of COVID-19 themed attacks that reached their peak. There were over 5 million such attacks in the month of March.  
1. Following preconceived frameworks
Cybersecurity for a remote workforce can be applied to most working environments, and you do not need to start from scratch in designing a strategy. In the cybersecurity context, many cybersecurity consultants suggest adopting the guidelines laid down by the National Institute of Standards and Technology (NIST). 
Here are the 5 Key functions which all organizations should perform to ensure placing robust cybersecurity for the remote workforce: 
Identify 

– Knowing the state of all your business assets and who has access to it.

 

Security

 – Limiting the access and release of sensitive business data by applying necessary safety protocols. 

 

Detection 

– Applying necessary tools and actions to help detect data breaches or any unlikely events.

 

Response

 – Creating protocols that quickly allow you to

act

 in the event of any data breach.

 

Recover

 - Developing a set of rules that lets the organization resume daily activities in case of IT contingencies.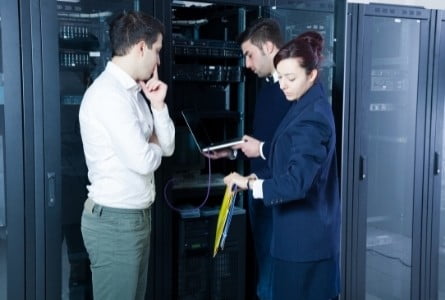 2. Building a Zero-Trust Architecture
Zero Trust is a safety-first strategy adopted by businesses on-premises that asserts that no person or system can be automatically trusted inside the network. Users adopting the remote cybersecurity solutions will be authenticated and allowed to enter many smaller data perimeters. Usually, the principle of confidence is divided into five key elements: 
Devices like mobile phones, laptops, desktops, etc.

 

Users – working from home or office

Session – Activities on the web

 

Application – Software, and tools used 

 

Data – Accessed, shared, and created.

 
The system can grant or refuse access once trust is initially created. Also, it is essential to re-check if all the elements mentioned above are in control. A combination of protocols such as multi-factor authentication, privileged access, and real-time monitoring help preserve the Zero Confidence architecture. 
When several workers access company data from around the workplace, security measures are increasingly necessary to address this transition. 
3. Educate employees about cybersecurity
It is crucial to address the Cybersecurity risk in the organization, no matter if the team works remotely. Educating the employees during the onboarding and also periodic training must continue regularly. Consider arranging daily training sessions for remote workers to clarify how safety is especially critical if the workplace environment is not secured. 
The cybersecurity training should go beyond the activities that workers carry out to secure home networks or computers. It must also address how cybersecurity, not just IT or management, is everyone's business duty. Some staff, particularly those who do not deal with classified information, may not be aware that they are vulnerable to hackers or malicious attackers. 
Start hiring a cybersecurity expert who can help you explore emerging security technologies and specifications for private information exchange with vendors. For instance, businesses may need to implement stricter controls on data loss, traffic analysis tools, and access restrictions. Ensure that suppliers do not raise the risk of cyberattacks and are committed to creating cyber preparedness plans. This will need your team to manage information securely or to communicate within a corporate network. 
4. Redefine your Cybersecurity Strategy
Based on this risk evaluation and risk management, the business and security staff teams should collaborate to redefine cybersecurity budgets. The key decision-makers should hire cybersecurity consultants to prioritize investments and enhance organizational cyber resilience in line with risk tolerance. 
Check changes today to boost the technology and security infrastructure, even though these changes could take years to introduce. Some companies might want to speed up their cloud strategy to quickly meet demand spikes from large-scale remote work with their IT capital. 
Additional common changes include investing in automation and advanced analysis to enhance security process performance. The dependencies on cyber-relevant data, rationalizing redundant monitoring, and security software to handle data volume explosion costs can help cybersecurity teams pivot resources of great strength to the areas that carry higher risk.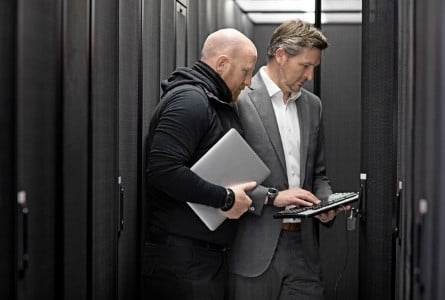 5. Miscellaneous methods
You will have to cautiously plan your IT infrastructure and blend in the cybersecurity protocols with it. Apart from the key elements mentioned above, you can implement other methods as well. 
Determining core business IT infrastructure for remote service.

Introducing asset and device protection for remote networks.

Integrate cybersecurity plans into the remote working business model. Make sure protection is one of the top priorities for small moving.

Set up remote workers protection protocols to ensure authentication and permission.

Limit access to confidential information databases.

Using protected data security software.

Update your IT infrastructure strategy to adapt to COVID-19 challenges with cybersecurity.
With the pandemic continuing, organizations are working to resolve a plethora of COVID-19 linked problems. The immediate crises and aftermath of a significant organizational change resulting from the pandemic would last for long.  
Hire experts for Microsoft cybersecurity solutions to develop and adopt a new operating model that integrates more remote work flexibility in the current crisis context. To ensure such security, businesses need to know how their cyber-risk profiles have changed by adequately reviewing their policies, training, and practice to resolve and mitigate future risks. 
Share This Post