Internet Explorer 11 End of Support: What's Next for Us?
June 15, 2022, marks the end of an era: Internet Explorer 11 End of Support. It concludes the 25+ years of bridging Microsoft users to the world wide web in just a few clicks. This means that the Internet Explorer 11 (IE) desktop app is now retired and will not receive any new feature updates for certain versions of Windows 10.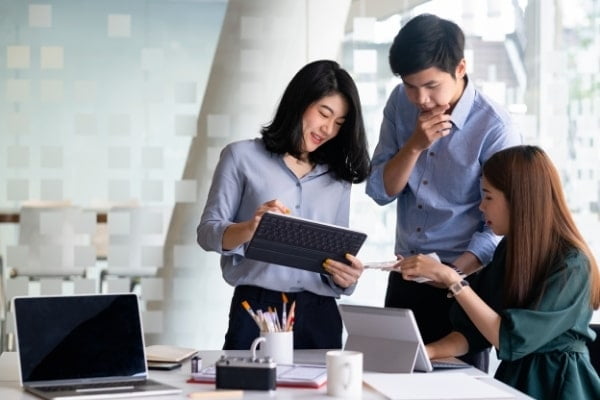 But do not fret—this app retirement is only Microsoft's way of leading their patrons to transition to Microsoft Edge, a more reliable internet browser. It gives a faster and more secure browsing experience with a more user-centric interface. However, the tech giant saw a big issue coming up when users go full transition: browser compatibility for old apps and sites. 
As a solution, Microsoft Edge embedded an Internet Explorer mode (IE mode), allowing users to still visit legacy IE-based sites and apps without switching tabs—and this holds to Microsoft's commitment to "provide a path to the web's future while respecting the web's past." 
Why Does the Internet Explorer 11 End of Support Have to Take Place?
Microsoft, as we all know it, has consistently provided smooth transition processes from old technology to the new ones, as well as transparency as to why a specific end of support happens. Here are the exact reasons why we should leave IE behind and shift to using Microsoft Edge: 
Compatibility– IE is almost three decades old, and while it works flawlessly to load those old apps and sites, it cannot keep up with the newer ones developed using more advanced technologies. But with Edge having an IE mode, users benefit from a dual-engine advantage that enables access to both old and modern websites without hiccups. This is a feature that you can only see in Microsoft Edge.   
Productivity– Edge is packed with modern features that greatly streamline user productivity. Sleeping tabs to boost browser speed, Vertical tabs to improve text legibility, Collections to gather favorite web contents, Profiles to create and assign designated accounts for work and personal browsing use, and so much more are included in this web browser. Users definitely will not need to switch tabs or browser apps to finish tasks! 
Security– with the rise of various cyber threats such as phishing attacks, malware, and hackings, an outdated browser such as IE is low-hanging fruit for these criminals. Shifting to Microsoft Edge provides a sophisticated layer of security against these crimes. It harnesses more modern and much stronger security technologies such as Microsoft Defender SmartScreen and Password Monitor—and made even stronger with Microsoft 365 Security Suite. These technologies are proven and tested to give cybercriminals a hard time compromising one's device or personal credentials. 
What Should You Do After Internet Explorer 11 End of Support?
There is no other thing to do than to start using Microsoft Edge. You can access it from the Windows Start Menu by clicking the Microsoft Edge icon in your taskbar or by searching it by clicking the magnifying glass icon in your taskbar as well. 
And as mentioned, IE is almost three-decades-old and has been embedded to various types of users, be it for leisure or professional use. It is also safe to assume that you may have accumulated years-worth of browsing data, which is a major hassle to save to Edge manually. 
The good thing here is that Microsoft made sure that Edge is already installed in new and updated devices, allowing you to easily import their data from IE to Edge in just a few steps: 
Step 1: Open Microsoft Edge 
Step 2: Click the Ellipsis or the three dots at the upper right corner of the window. 
Step 3: Go to Settings and click Import browser data
Step 4:  Click Choose what to import and ensure that the Import from dropdown has Microsoft Internet Explorer. 
Step 5: Tick all the data boxes you want to import, be them bookmarks, browsing history, saved passwords, etc., and click the Import button. A confirmation message will then pop up once the importing is finished. 
You may also import data from other browsers such as Chrome, Firefox, etc. Just choose the right browser from the Import from the dropdown list and follow Step 5. 
As for accessing old sites, you may need to enable the IE mode in Edge to avoid loading problems. Follow these quick steps: 
Step 1: Open Microsoft Edge 
Step 2: Click the Ellipsis or the three dots at the upper right corner of the window. 
Step 3: Go to Settings and click Default browser. 
Step 4:  Under the Internet Explorer Compatibility, go to Allow sites to be reloaded in Internet Explorer mode and select Allow from the dropdown list. 
Step 5: Click Restart 
Conclusion
There is no doubt that Internet Explorer taught us the ropes when browsing the internet in its early days. However, reaching its end of the support shows that it can no longer keep up with the current landscape of threats, website development, and user experience. 
On the brighter side, Microsoft saw this opportunity to make an IE tribute in Microsoft Edge in the form of IE Mode, allowing us all still use and access old legacy sites in a faster and more secure browser—and that is a one-of-a-kind innovation. 
And as we all transition to newer technologies, a trusted partner like CSE is necessary. Need assistance with your IT infrastructure? Send us a message here. 
Share This Post