Why Cloud Managed Services Stay Relevant in 2023?
The high demand for cloud technology shows no stopping. With how "pliable" it is, it has made itself a trusted element for elevating almost any aspect of a modern business—from workplace productivity to data security. And due to its pivotal and crucial role among companies, it continues to become a popular and trusted investment. In fact, the global spending for public cloud alone is predicted to grow to $591.8 billion this year.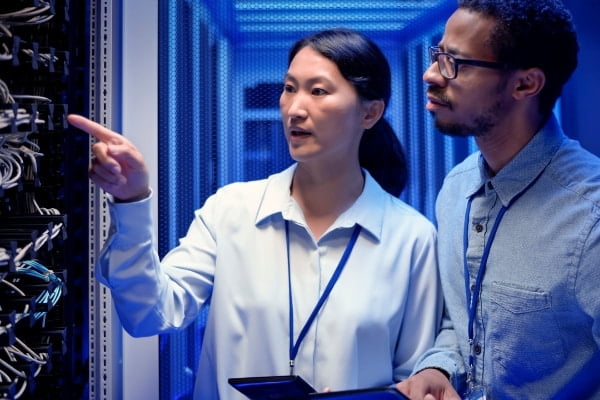 This growing demand greatly calls for the expertise needed to monitor cloud technologies at the backend—and this is where cloud managed services come into the picture. And same as the need for the cloud itself, the value of these services is also increasing. By 2030, cloud consulting and managed services will reach around $145.6 billion, a jump of 13.40% from its previous figure.  
If these figures are true, what exactly makes these services so relevant in 2023 and the years to come? And what should a modern business do to maximize them? Read on to find out. 
First and foremost: what are
cloud managed services
?
Cloud managed services refer to outsourcing cloud-based IT operations to a third-party service provider. These services include the management, monitoring, and maintenance of cloud infrastructure and applications.  
Cloud managed service providers (or MSPs) can manage various aspects of the cloud environment, such as cloud network security, private cloud storage, databases, and applications. They offer a range of services, including cloud data protection, migration, deployment, integration, and optimization. On top of these could be cloud consulting services and implementation of a hybrid setup like Azure hybrid cloud.  
By using cloud managed services, businesses can focus on their core competencies while relying on experts to manage their cloud infrastructure. This can lead to increased efficiency, reduced costs, and improved performance and availability of applications. 
These services can be offered in various models, including public, private, and hybrid clouds. The pricing models may vary, such as pay-as-you-go, monthly subscription, or fixed contracts. 
At a closer look, what should
cloud managed services
cover?
Cloud managed services should include a range of services that help businesses optimize and manage their cloud infrastructure and applications. These services may vary depending on the specific needs of the organization but typically include the following: 
Cloud strategy and planning –

This includes assessing business requirements, identifying the appropriate cloud services and providers, and creating a roadmap for migration to the cloud. This also where the

on premise vs cloud

confusion gets solve by tailoring the best cloud setup for a business. 

 

Cloud deployment and migration

– This involves deploying cloud infrastructure and applications, migrating existing workloads to the cloud, and ensuring a smooth transition. This is also where technologies and practices for overall

cloud data protection

is rolled out.

 

Cloud monitoring and management

– This covers monitoring the performance and availability of cloud resources, managing cloud security and compliance, and optimizing cloud resources to ensure cost-effectiveness.

 

Cloud automation and orchestration

– This involves automating tasks, workflows, and processes to improve efficiency and reduce manual intervention.

 
Cloud support and maintenance

– This includes providing technical support, troubleshooting issues, and applying updates and patches to ensure the cloud infrastructure and applications remain up to date.

 

Cloud backup and disaster recovery

– This covers creating backups of cloud data and applications and implementing a disaster recovery plan to ensure business continuity in case of an outage or failure. 

 

Cloud consulting and advisory services

– This includes providing guidance on cloud best practices, trends, and emerging technologies to help businesses stay ahead of the curve.

 
What makes
cloud managed services
so relevant today?
These services are relevant today because they help organizations leverage the power of cloud computing to achieve their business objectives. Here are some reasons why cloud managed services are particularly relevant today: 
Scalability –

Cloud managed services allow organizations to quickly scale their infrastructure and applications up or down in response to changing business needs without the requiring for significant upfront investment.

 

Cost-effectiveness –

Cloud managed services can help organizations reduce their IT infrastructure costs by leveraging the pay-as-you-go model, avoiding upfront capital expenses, and reducing the need for in-house IT staff.

 

Flexibility –

Cloud managed services enable organizations to choose the specific services they need, allowing them to focus on their core competencies and outsource non-core functions.

 

Security –

Cloud managed services provide high level of security and compliance, with built-in security features, automated patching and updates, robust disaster recovery and backup capabilities, and even

hybrid cloud security

.

 
Innovation –

Cloud managed services enable organizations to access the latest cloud technologies and innovations, such as artificial intelligence, machine learning, and the Internet of Things, without needing to invest in expensive hardware or expertise.

 

Remote work –

Cloud managed services provide remote access to applications and data, making it easier for employees to work from anywhere, anytime, on any device.

 
Just like how mandatory cloud technology is today for modern businesses, never neglect the importance of investing in the expertise it needs through cloud managed services. And expect this tech and expertise need to intensify as time goes by since it grows along with cloud technological innovation.  
You need a tech partner to rely on to have a stable footing in this cloud-first world. Choose us. Talk to us.  
Share This Post