Microsoft Teams Essentials Has Been Designed Specifically for Small Organizations
While the previous 20 months have been difficult for all firms, none have been struck worse than small enterprises. They've had to change practically every part of their business and how they interact with customers, frequently without access to crucial tools and technologies. Because the world is not going back to the "old" way of doing things, small businesses want personalized solutions to their unique requirements to thrive in this new normal.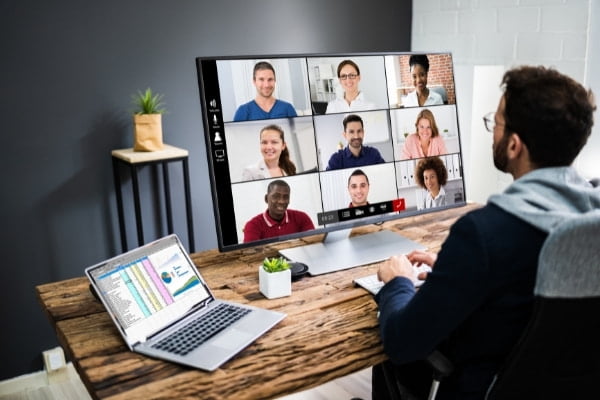 Microsoft Teams Essentials is the first standalone version of Microsoft Teams, and it's aimed at small businesses. It includes services such as unlimited group video calls for up to 30 hours, group chat, file sharing, and calendaring those small businesses require to offer clients. It is also the most affordable all-in-one solution on the market today, with a monthly cost of only USD 4 per user.
Teams Essentials is crafted especially for small businesses
Teams Essentials includes the following features for hosting meetings and collaborating in a single location:
For up to 30 hours, you can have an unlimited number of group meetings.
Meetings with a capacity of up to 300 people
Each user gets 10 GB of cloud storage.
From restaurant chains to retail outlets to business services, small businesses can quickly meet, work collaboratively, interact, and serve customers in new ways with Teams Essentials.
The demand for low-cost communication tools is not restricted to conventional profit-making small companies. Nonprofit groups, religious institutions, school systems, and community organizations struggle to connect and collaborate effectively. Teams Essentials enables these organizations and small enterprises to get up and running quickly without IT experience. Teams Essentials makes it simple and easy for those with and without a Teams account to participate. While Microsoft Teams' free version is still accessible, Teams Essentials adds capabilities like longer meetings and excellent storage.
Working closely with clients and partners can be difficult without the proper communication tools. Teams Essentials combines established Teams' capabilities with features tailored to small enterprises and community organizations.
What are the differences between Microsoft Teams Essentials and other Microsoft Teams plans?
The primary Microsoft Teams features available across plans are listed below. There are a few things to keep in mind. For more details, see the footnotes. This table is subject to change at
any time. Visit the Microsoft Teams service description for the most up-to-date and comprehensive list of features.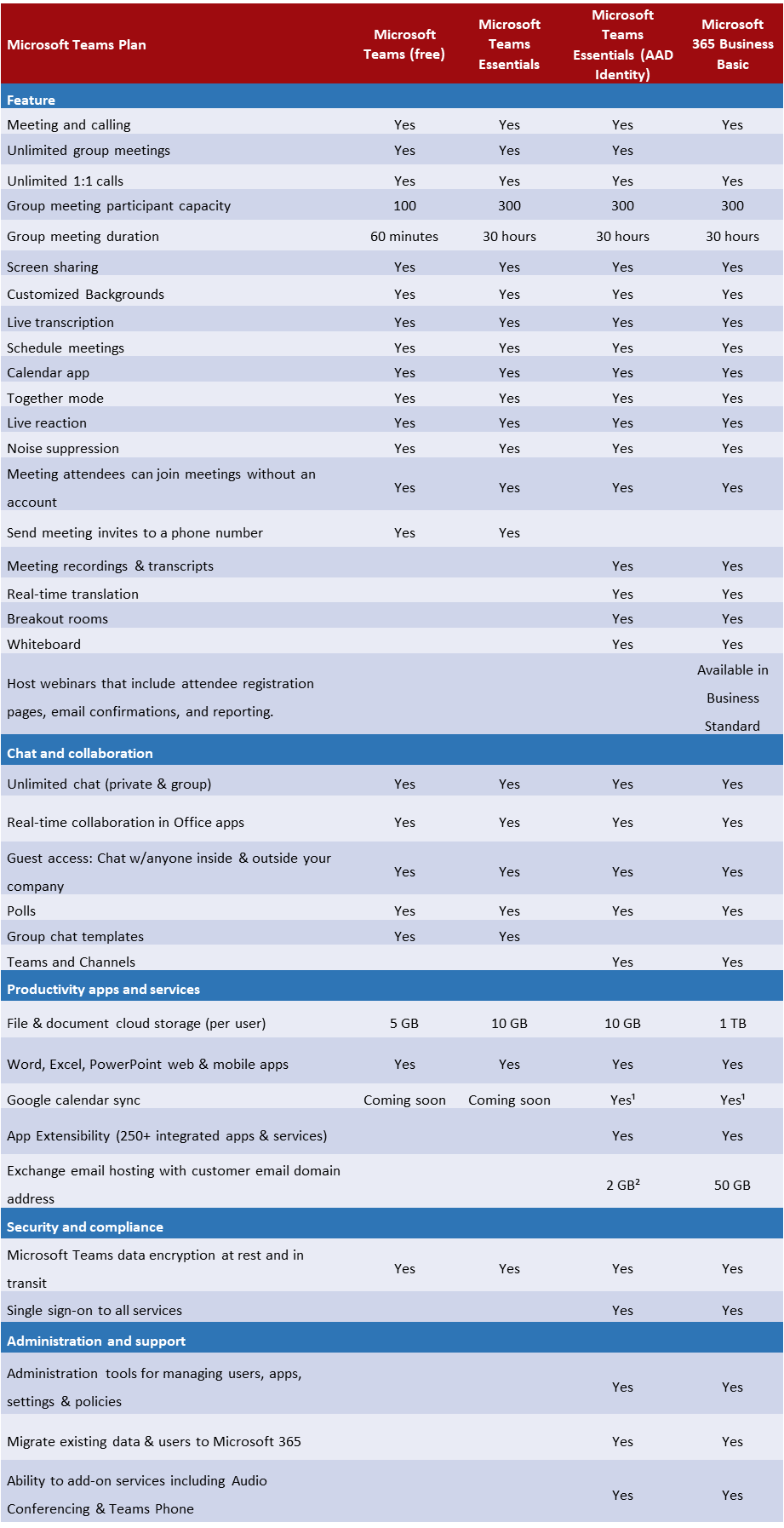 With the following settings, you can connect to Google Calendar and other third-party calendars: Configuration Guide for Microsoft Teams Essentials (AAD Identity)
Users can sync with third-party email providers with Teams Essentials (AAD Identity) through a partner, including a 2GB Exchange mailbox and no archiving.
Large meeting capacity: Teams Essentials can simultaneously host up to 300 people, allowing everyone to be in the same virtual room.
Calendar integration: In addition to Outlook Calendar integration, Microsoft Teams now has Google Calendar connectivity, allowing you to utilize your existing calendaring application to stay on top of schedules and manage meetings. Integration with Google Calendar is coming soon.
Extended meeting times: Whether you're meeting one-on-one or in a group, there's no need to worry about your Teams Essentials meeting running over its time restriction with sessions that may last up to 30 hours.
What Can We Do?
Office 365 Integration – We can link Microsoft Teams with any of your Office 365 assets to ensure that information is shared seamlessly.
Applications Made to Order – Are you looking for a change? Our Microsoft Teams specialists can create the unique solutions you need to meet your objectives.
Data & Reports Management – With personalized features and branding unique to your firm, you can manage your data like never before.
Global businesses rely on our professional team of Microsoft Teams developers and architects to provide engaging applications, portals, and experiences. We prioritize business above technology to ensure that our client's objectives are realized to their high standards. Call us now to know more
Share This Post