How Can Enterprise Gain Competitive Advantage with the Digital Transformation
Companies face relentless pressure to gain a competitive edge in the market and maintain their position. They go through the phase that tests their strengths and weaknesses and sees how they can counter challenges and leverage opportunities. All these, coupled with managed IT services, enable the business development and set priorities specified in the organization's context after evaluating established capabilities and pegging industry-specific IT solutions.
A technology plan with a better cloud business solution will converge to handle and achieve the intended goal. Almost all business training aims to use technology for information integration, optimizing processes, and transforming service delivery. Resource utilization is another aspect for which the new age businesses will need to walk the extra mile and create digital disruption. This article will deal with how information technology and its subsequent network can help gain a competitive advantage even in current economic conditions.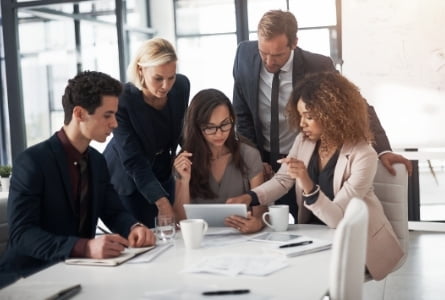 The Impact of Digital Disruption
The below diagram is of Digital Vortex. It reveals how the digital revolution redefines industries. The industry's status from the center represents the degree of a possible competitive disturbance faced by a company in that industry because of digital technology within five years.
Technology goods and services were one of the 12 sectors that fit in the comprehensive digital Vortex. Compared to the data-intensive industries as a seed in the middle, industries along the digital Vortex periphery are more asset-intensive. Thus, they are most likely to experience the digital disruptions of their surrounding industries due to businesses using industry-specific IT solutions. Now, it should not mean they are safe, but comparatively, they sit in a comfortable position, away from the immediate competition.
Few businesses can today choose "to go digital." Some base their entire business model on continuously evolving internet, social networks, mobile solutions, big data, and other innovative technologies. Digital disruption at a competitive level is the convergence of multiple technological advances allowed by connectivity. And digital disruption applies to a company's existing value offerings and its subsequent market position through the influence of digital technology and business models. This applies to small and medium businesses and challenges enterprises' ability to reshape markets more rapidly than before.
Over the next five years, the automotive industry is an example of an unrivaled fringe of progressively connected cars – like battery technology, connected pipes, and self-driving vehicles. Major technology companies like Google, Apple, and Tesla are now working hard to develop driverless cars. And it is not just the automobile industry that will be disrupted when this emerging technology is widely embraced.
Finally, unforeseen markets, including real estate, housing, education, may also be affected. Self-driving cars may cause significant upheavals for many industries, which would change the strategy to compete as other segments start using them.
Value Drivers and Combinatorial Disruption
Customer value is created in at least one of 3 ways by digital disruptors.
Cost value – competing in the form of reduced prices or other economic benefits for consumers
Value for experience – compete by superior customer experience.
Platform value – competing through the production of network effects for customers
Amazon, Cisco, Uber, Microsoft, and other market digital disruptions do not just focus on technology.
They intend to drive value to users and pivot resources to lead futuristic business opportunities. Enterprises must use the right mix of digital services that can prove effective in the longer run. Moving ahead with time is one thing and creating a market differentiator is another. There are many more applications like Uber, but there is only one Uber. It goes to say how one company could leverage technology's true potential and disrupt the whole market. 
Leverage the combined growth of cloud, mobile applications, AI, and robotics to drive growth
The new business age is quite efficient in transforming their staff, processes, and technology capabilities rapidly. They aim to keep up with the accelerating digital environment, and therefore, such enterprises can benefit from cloud-based solutions, software/applications, AI, and robotics. These technologies remain at the core of their business transformation.
The agility and scalability of the cloud make it the perfect platform for both infrastructure and applications. There are a plethora of cloud business solutions in the market tailored for industry-specific use.
Modern apps and tools allow interactions between companies and their customers and through broader ecosystems and multiple channels.
AI is useful for businesses to gain insight by simulating the human intelligence element and analyzing massive data volumes.
When paired with cognitive technology like machine learning, speech recognition, and natural language processing, robotics enables businesses to automate tasks once the people's capacity to interpret and assess.
Digital transformation leaders realize the true potential of technology. There is much more to deliver than just a promise from cloud service providers in the USA. Outsourcing business services can open ways to tap the expert assistance necessary to grow business quickly and outgrow competition.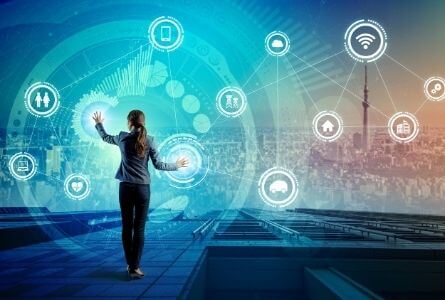 Stay prepared for cyberattacks
As breaches continue to dominate the news cycle, affecting both big corporations and small organizations, firms that previously overlooked the need for cybersecurity training and avoidance are increasingly focused on one question: Are we prepared in case of an attack? And the answer is unequivocally opposed.  
Developing an effective cybersecurity preparation strategy combines adopting company-wide procedural rules, using data protection and taking technological measures to safeguard your data, and putting in place a reactive plan in case the worst-case scenario occurs. 
Cybersecurity preparedness entails creating a sophisticated, proactive approach that extends far beyond a simple reaction plan – although data indicates that many companies lack such a plan. 
Cyberattacks come in many shapes and sizes nowadays. Although we often describe a major characteristic of cyber security events as their source, this is usually based on generalizations. These attacks may vary from a single attacker's phishing email to a worldwide criminal group that wants to destroy a big company. Both sides of the spectrum may have equally profound effects on your company. 
Bottomline
At some level, companies should look to grow beyond just doing conventional business. As businesses resume to the new normal globally, taking over that competitor is possible than ever. It all comes down to whom you choose as your technology partner.
For instance, Computer Solutions East has helped hundreds of businesses empower themselves with technology and take on big heads. You could be the next one to hit the Forbes 500 list. And it all starts with one step that matters the most – leaping with technology.
Share This Post