What Do You need to Know About Office 365 Non-profit from Microsoft?
What is Office 365 for Non-Profit?
Microsoft has extended its solutions to the domain called Microsoft Office 365 Non-Profit. The answer is designed to help non-profits and NGOs wholly and immensely, and the company essentially provides the best-in-class cloud-based productivity for their benefits.
Some of the essential features that Office 365 for Non-Profits include,
Email storage with multiple levels of storage, and these include,

Limitless archiving functionality along with additional security attributes, including E3 and E5 licenses.
The storage facility of over 50GB for every user and these include business essentials, premiums, and E1 Licenses.
Free storage of 2GB via F1 licenses.

All these similar performance components are received for every version of the Office suite.
Additional security measures to ensure data and file protection.
Best in class cloud-based productivity and availability at any place and at any time.
It is also to be understood that there are multiple Office 365 Non-profit plans and pricing for varied levels of organizations. They have different requirements as per the company's strength and other factors, which is what Office 365 for Non-profit is all about.
Why Office 365 for Non-Profit?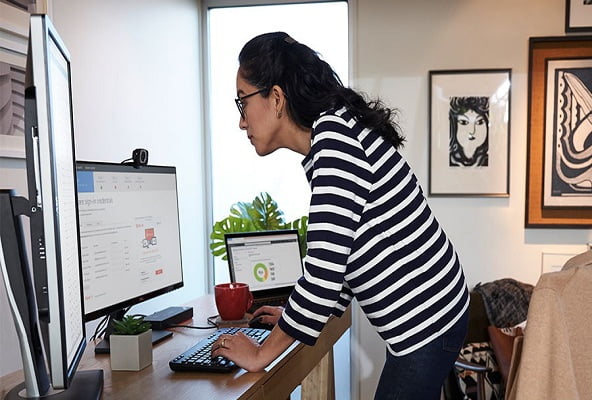 Why should you choose Office 365?
How it will help benefit your non-profit organization and raise it to a level far beyond the current status. For this, we need to understand the benefits that it offers. Let us have a look at some of them,
Email hosting functionality – Office 365 contains Microsoft Exchange Online, which enables you to seamlessly manage the email servers and setting up access to your workplace. Employees would be able to monitor their emails, calendars, contacts, and other stuff through their devices as well, giving them an ample amount of flexibility.
Web App Functionality – Office Web Apps lets you access your work from any place, at any time, and any location with no worries at all. If you seek to send out any important document immediately, you may do so with just a simple internet connection and by accessing your web apps.
Privacy and security options – Office 365 contains one of the best malware protection options and spam security, which protects your data entirely, and this eliminates the tasks for your IT employees. If companies are involved with protecting sensitive information, then it must be ensured that you have Office 365 since it follows all of the essential security protocols and compliance standards as well.
Document sharing feature – Users would be able to edit and share documents with anyone using the SharePoint Online application, which is part of the Office 365 suite. This will also save up a lot of time and will reduce any confusion with regards to sending the documents to and fro.
Collaboration feature – The suite also consists of Microsoft Teams, which is a great platform to communicate, collaborate, execute meetings, and set up goals for your team in an instant. This can also be connected through anywhere and from any device or platform.
Why Computer Solutions East?
Computer Solutions East provides the best in class services with regards to Office 365 solutions and services for non-profit organizations and companies across their client base. Since Office 365 offers a lot of benefits and advantages when it comes to its flexibility and other prominent advantageous factors, it is a plus point. Also, the team of experts working with CSE provides the customers with a step by step overview of how best they can teach solutions that are picture-perfect for clients.
Some of the features that are provided by Computer Solutions East for Office 365 for Non-Profit are as follows,
Get more Done swiftly – With Office 365 for non-profit, clients would be able to multi-task and get more things done very quickly and efficiently. You can receive all of these applications with built-in functionalities that would benefit them in every aspect.
Teamwork – Office 365 for non-profit also supports teamwork and collaboration features, which acts as the central core of this software. Clients would be able to share things on the go, with complete transparency and flexibility.
24 x 7 Technical Support – CSE provides end to end technical support features that would be very salient, and this would enable clients to communicate with the renowned experts from CSE to understand and clarify whatever queries they have in the form of tickets or calls.
Data Security and Microsoft Assurance – Microsoft provides complete assurance concerning the brand value, and it also ensures absolute data security against any threats that could affect the system.
Give us a call at 914-355-5800 to find out more about Office 365 for Non-Profit.
Share This Post