Cybersecurity is Everyone's Responsibility
Historically, cybersecurity was viewed as the IT department's responsibility. Since data are stored on computer systems, an IT director is made responsible for protecting them. Data security today still uses IT-based security techniques and approaches. Security in a computer program includes firewalls, permissions, encryption, and other techniques to protect information.
In consideration of cybercriminals' improved security defenses, they have to establish more complex attacks requiring businesses to hire. It is no longer enough to jump a perimeter firewall to gain access to the network.
Examples of cybersecurity include, and are not limited to:
1. When an attacker instructs a botnet to conduct a Denial-of-Service attack against a website, causing the site to crash.
2. An incident in which people are tricked into opening a "quarterly report" sent via email is malware and creates a link to an external server.
3. A data breach in which confidential data is compromised and threatens that the information will be published if a financial ransom isn't paid.
4. An event where a user reveals personal information to other users on P2P networks.
Navigating the security concerns with employees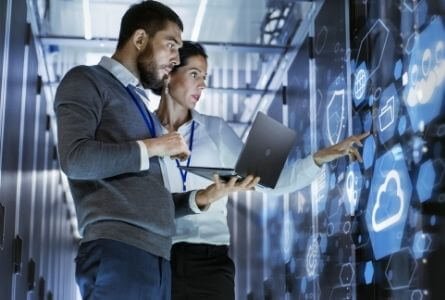 The fact is that people are the greatest threat to corporate security. It's not hackers; it's your staff. Despite heightened awareness of the dangers of malicious emails, this form of attack remains the most prevalent. According to the US government estimates, 75% of all cyber-attacks in 2019 were launched by email.
However, perimeter defenses do not eliminate all attempts of malware and ransomware. Malware is injected when someone opens an infected attachment. This condition is the same for a compromised network system, corrupted disc drives, and unsecure portable computer devices linked to the corporate network. Here is where cybersecurity consulting can come to play as they automate the system to plummet such risks, with human workers pivoting the security responsibilities.
As an enterprise, there are steps everybody in the organization should take to ensure cybersecurity preparedness collectively.
For IT: Ensuring software is patched, data is encrypted, and the device operating system and programs are all up to date. WannaCry and NotPetya reflect the need for applications to be regularly modified and patched by cybersecurity service providers. This one move ensures the next assault is stopped before it happens. At the moment, it is also a reasonable time to review your threat detection capabilities. Your team has demonstrated skills that are important to prevent minor security incidents from becoming catastrophic disasters.
For Employees: When you stand in front of customers, you are the most likely social engineering scheme object. It's essential to ask your organization's CISO or CIO about protection and privacy training and training on what to do if your business has been breached.
Be careful about what you press, as they can include harmful programs. If it is from someone you do not trust, or if you do not recognize the sender's email address, take care, and don't open it until you have checked with your cybersecurity consulting.
For management: Transition arises from the top down. Speak frankly to your staff about the threats you're facing and what they might face. Cybersecurity service provider in the USA cybersecurity to the work environment makes employees and managers more aware of their threats.
The best way to minimize the number of security breaches is to cultivate a culture of healthy skepticism. In the age of transparency and social enterprise, security problems must be taken seriously and not left to chance.
A modern "verify first, then trust" alternative would mean switching from the conventional "trust but verify" paradigm to a new verification model first and trust later. Any contact that a third party sends via Email, File, or even approach can be considered hostile unless proved otherwise.
Advanced persistent threats (advanced threats, advanced persistent threats, and other variants) utilize multiple vectors to compromise a company's security, including spoofing communications from trusted sources. A healthy skepticism dose helps avoid these more advanced approaches that have invaded our culture from effectively infiltrating the system.
Cybersecurity leads from top to down.
Power begins at the top. What is your command? The IT Director determines the improvements that need to be made, so the rest of the company must find out and receive those changes from the IT Director.
The most successful way to empower workers is to have daily instruction. In the first step, they need to recognize new attacks and continue applying them.
Since people are vulnerable to ATP attacks, your team must be prepared to help combat threats. Data security issues may not be clearly specified in the job description, but everyone must play a role at the top level.
The stakeholders educate and prepare our members and the industry through this new website and its continuing efforts through other media. By exchanging information, expertise, and ideas, participants will support one another and the public safety communications community. The organization looks forward to working with you to keep our profession updated and safe as a profession.
Share This Post